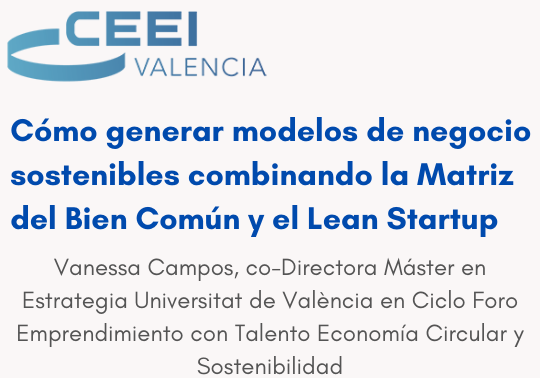 Vanessa Campos, Professor and co-Director of the Master's Degree in Business Strategy at Universitat de València, and Project Coordinator of the EBC Chair publishes the article "How to generate sustainable business models combining the Common Good Matrix and Lean Start-up" in CEEI Valencia.
The article presents the Common Good Matrix as an effective tool for designing sustainable business models, understood as those that effectively integrate economic, social and environmental aspects, i.e. they operationalise the three pillars of sustainability in practice.

If this matrix is also complemented and validated with the Lean Start-up model, specifically the tool known as the Validation Board, we would have a complete process for the design, validation and scaling of sustainable business models.
These combinations of methodologies are collected in a book that is aimed at both students and entrepreneurs: "Sustainable Entrepreneurship. Entrepreneurship from the co-creation of value and the common good" (Joan R. Sanchis, Vanessa Campos y Ana Ejarque), published by Ediciones Pirámide.