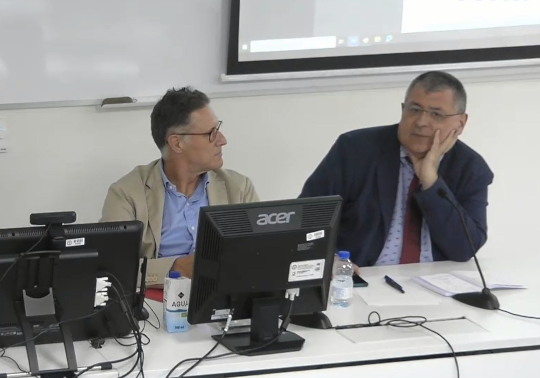 Presentation by the director of the Chair, Professor Ricard Martínez, in which he presented the benefits for Spanish society of the correct use of data processing.
Analysing the opportunities and warning about the risks of digital transformation in the State was the aim of the conference Digital Transformation of Government: Towards a digital Leviathan? organised by the Universidad Carlos III de Madrid and the Indiana Journal of Global Legal Studies. The event was held on 24 and 25 June in Madrid.
The director of the Microsoft-Universitat de València Chair for Privacy and Digital Transformation, Ricard Martínez M., participated in the round table "The Risk of a Government as a Big Brother". He was joined by academics Manuel Fernández Salmerón and Antonio Pele.
Professor Martínez argued that Big Data and data-processing, both personal and non-personal, "is the main topic of discussion on the future of the State". "They are needed for the proper functioning of the welfare state and for the design of public policies", he said.
However, there are risks. He explained that these are to be found, fundamentally, in how they are used, for example, by large technology companies —such as Facebook and Google— or mobile device manufacturers —such as Apple and Samsung—. In order to solve this problem, Martínez suggested data traceability as an effective tool. "This means", he said, "that the legal framework for data protection must be enforced in every decision about its use during processing and reuse".
"We must change our approach to technology and the use of data, so as to find a balance between the right to privacy and its use for the benefit of the community", he concluded.
NOTICE: The paper is in English.