The "Services Charter" is a written document, where the organizations inform the public about the services they manage, the quality commitments in their services and the rights and obligations of the users
The decision to write a Service Charter derives directly from the Strategic Plan of the University of Valencia 2008-2011, which in the strategic line121, establishes the necessity to generalize this management tool in the different university units.
In view of this institutional orientation and by management proposal during the year 2011 a Services Charter Commission composed by the UVdisability staff was in charge of elaborating the content of the above mentioned Service charter.
Once the service charter was finished, it was approved in November and appeared in official form on December 2011 inside the "Integration Day" celebrated in the Faculty of Philology, Translation and Communication and it will be in force until December, 2014.
On this page a full text of the "UVdisability Services Charter" is provided as well as a summary of the version in brochure format (also available in paper version in the UVdisability dependences). It is necessary to emphasize that, faithful to its objective of continuous improvement, the UVdisability promises to in addition an "Annual monitoring Report of the Letter of Services " and to publish it in December in the UVdisability web.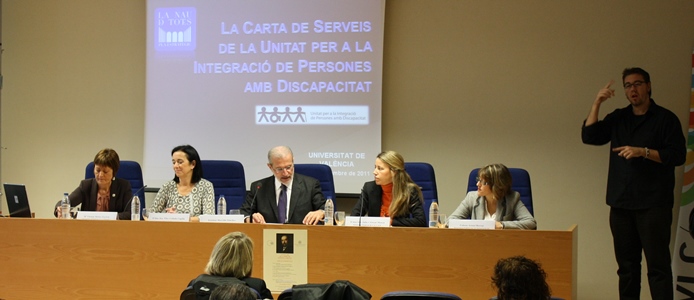 Services Charter Versions