​
​U-Multirank is an initiative of the European Commission, funded by the Erasmus+ programme and developed by a consortium led by the Centre for Higher Education (CHE) in Germany, the Center for Higher Education Policy Studies (CHEPS) at the University of Twente and the Center for Science and Technology Studies at the University of Leiden, both in the Netherlands. Since the 2018 edition, the financial contributions of two new sponsors, the Bertelsmann Foundation in Germany and the Santander Group in Spain, have been incorporated, which also participate in the new governance model.
The CYD Foundation collaborates in the collection of data from the state university system and takes advantage of part of the indicators for the subsequent creation of its own ranking, centred exclusively on these institutions. In addition to the analysis of the set of institutions, U-Multirank offers additional information focused on a series of thematic areas, which are expanding year after year.
U-Multirank offers a multidimensional view of institutions through a system of indicators grouped into five major areas: Teaching and Learning, Research, Knowledge Transfer, International Orientation and Commitment to the Territory.
With respect to sources, a large amount of information is requested directly from institutions or is obtained from the SIIU (Integrated University Information System of the MECD), in the case of state institutions. When it comes to bibliometric indicators, the sources are the databases of Clarivate Analytics, Web of Science, etc.
Bibliometric data Provider:: Web of Science - Clarivate Analytics
Last update: 03-07-2019 | SAP
Access to page of ranking: U-Multirank
| EDITION | No. of institutions classified | Countries |
| --- | --- | --- |
| 6th edition 2019 | 1.711 | 96 |
| 5th edition 2018 | 1.614 | 95 |
| 4th edition 2017 | 1.497 | 99 |
| 3rd edition 2016 | 1.300 | 90 |
| 2nd edition 2015 | 1.113 | 83 |
| 1st edition 2014 | 863 | 70 |
The web tool U-Multirank allows two levels of comparison:
A) At an institutional level (university in its whole)
B) At a level of thematic areas of study, which are currently:
Business studies
Biology
Chemistry
Dentistry
Education
History
Mathematics
Medicine
Nursing
Pharmacy / Pharmacology
Physics
Political Science
Psychology
Social Work
Sociology
Economics
Computer science and engineering
Mechanical engineering
Electrical engineering
Chemical engineering
Industrial engineering/production
Civil engineering
U-Multirank aims at presenting an approach oriented to satisfying the needs of different profiles of users: university students, managing staff from the Administration, legislators, academic staff, entrepreneur, etc. To do so, we have implemented a web-tool which allows designing and elaborating a customized classification for several users depending on their preferences and interests.
Ranking criteria
Differently to what occurs in other international rankings, in U-Multirank does not carry out a classification based on a weighted combination of indicators which measure different dimensions, using the results to elaborate an organised chart: TOP100, TOP500...
On the contrary, the methodology used by U-Multirank centres around comparing university performances through five dimensions. Each of this dimensions is represented by a group of indicators, where all indicators weigh equally.
The score obtained within each indicator, is translated into the university's position and is valued and visualized in two different ways:
a Likert scale (from A "very well" to E "weak")
a circle gradation, in a descending order.

The five activity dimensions of the university previously mentioned are: (1) Research; (2) Knowledge transfer; (3) Teaching and Learning; (4) International Orientation and (5) Regional engagement.

The following table indicates the indicators which were used:

DIMENSIONS
INDICATOR
1. Research


Citation rate
Research publications (whole numbers)
Research publications (standard numbers)
External Research Income
Academic production in relation to Art
Most-cited publications
Cross-disciplinary publications
Contracted post-doctorates
Research guidance in teaching
Doctorate productivity

2. Knowledge transfer

Co-publications with industrial partners
Incomes from private sources
Granted patents (whole numbers)
Granted patents (standard size)
Co-patents with the Industry
Spin-offs
Publications cited in patents
Income from ongoing training

3. Teaching and Learning

Degree title fees
Master's Degree title fees
Graduated in time (Undergraduate Degree)
Graduated in time (Master's Degree)?
Student-staff ratio
Doctorate Teaching and Research Staff (PDI)
Degree titles in time fees
Master's Degree in time title fees
Work Placements (Undergraduate Degree)
Work Placements (Master's Degrees)
Unemployment relative rate of undergraduates
Unemployment relative rate of master's degree holders

3. Ensenyament i aprenentatge

(survey to students)

Overall experience from learning (survey)
Quality of teaching and courses (survey)
Programme organisation (survey)
Working inclusion/practical experience (survey)
Evaluation of the relationship with the teacher (survey)
Quality of the library facilities (survey)
Quality of the available laboratories (survey)
Quality of computer services (survey)
Quality of conference and seminar rooms (survey)

4. Internacional Orientation

Degree programmes in foreign languages
Master's Degree programmes in foreign languages
Student mobility
International guidance of Degree programmes
international guidance of Master's Degree programmes
Opportunities to study abroad
International Academic Staff
International Doctorates
Joint international publications
International research grants

5. Regional engagement

Undergraduates who work in the region
Master's Degree holders who work in the region
Trainee students within the region
Joint regional publications
Degree Final Project with regional organisations
Master's Degree Final Project with regional organisations
Regional Income
U-Multirank does not offer a unique position for each university, reason why we facilitate a link to the web tool in order to access and fix the filters and order criteria which may be deemed appropriate.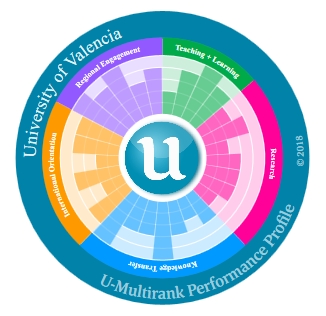 This link shows the explanation of the graphic
SAP- 4 May, 2017