Democratic Memory. 1936-1939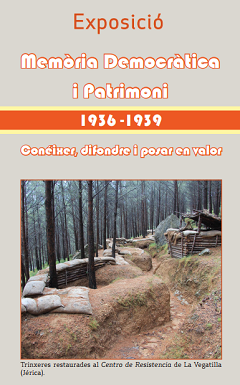 Schedule: From 6 november 2017 to 17 november 2017. Monday, tuesday, wednesday, thursday and friday at 08:30 to 21:30.
Place: Centro Multiusos de Lliria
Description:
Historical and democratic memory. 1936-1939. To know, to spread, to value. An exhibition composed by 17 recessed lighting fixtures collecting historical, documental and war heritage in the Valencian territory as a consequence of the Civil War between the years 1936 and 1939.
Organized by:
The Universitat de València through the Office of the Vice-Principal of Participation and Territorial Projection of the Universitat de València with the collaboration of the City Hall of Lliria and Caixa Popular..
Contact: unitatsuport@uv.es
More information: