Territori valencià, Territori runner - Sogorb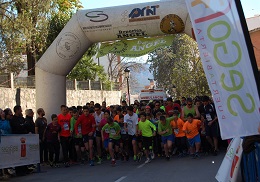 Schedule: From 6 february 2019 to 24 february 2019. Monday, tuesday, wednesday, thursday, friday, saturday and sunday at 10:00 to 14:00.
Place: Pavelló Poliesportiu Municipal , carrer Gómez Máñez, s/n
Description:
La Universitat de València, a través del Vicerectorat de Projecció Territorial i Societat, en col·laboració amb la Direcció General d'Esports de la Generalitat Valenciana i Caixa Popular presenta l'exposició "Territori valencià, territori runner" que palesa la creixent importància social i cultural d'aquest fenomen a partir de les aportacions d'una quarantena d'investigadors i investigadores de la Universitat i d'altres especialistes en la matèria.
El territori valencià presenta el major índex de pràctica de l'atletisme popular de tot l'Estat. Des de l'època de Jaume I hom pot retrobar petjades d'aquesta pràctica en la nostra terra. Partint d'aquests antecedents -i de les enormes capacitats que presenta per al conreu de la salut tant física com mental-, aquesta exposició multidisciplinària i polièdrica pionera sobre l'enorme importància que està adquirint la pràctica del running en la societat valenciana s'analitzen aspectes que abasten una ampla varietat de temàtiques entre les quals podem trobar les següents: salut, fisiologia, qualitat de vida, nutrició, prevenció de lesions, psicologia, biomecànica, preparació física, dopatge, patrocinis, modalitats, etc.

Organized by:
Universitat de València en col·laboració amb la Direcció General d'Esport de la Generalitat Valenciana, Caixa Popular i l'Ajuntament de Sogorb.
Contact: unitatsuport@uv.es
More information: