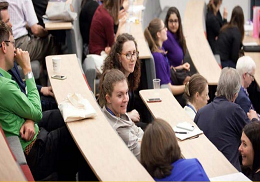 When: June 6, 2018 at 12:30pm—2:00pm
This research seminar is hosted by the division of Work, Employment, People and Organisations (WEPO) at Sheffield University Management School
Speaker
Professor José M. Peiró, Research Institute of Human Resources Psychology. University of Valencia.
The economic crisis that many regions of the world are experiencing since 2007 is having important effects for work but also for personal and social life of individuals, families and communities. The economic crisis has had important implications for the quality of working life hampering employment, job security, job quality and working conditions. Nevertheless, it also has been considered as a new scenario with new opportunities for work improvement and innovation.
The 'happy-productive model' in organizational Psychology has aimed to establish the relationships between wellbeing and productivity as a way of advocating that quality of working life induces workers' higher performance and pays-off for organizations enhancing their results. However, results are rather inconclusive and the relationships between these two variables, when significant, are moderated. The important changes mentioned in the socioeconomic context, markets, organizations and work as well as the ones related to workers pose new challenges to the analyses of the interaction and mutual determination of performance and wellbeing. It requires for instance broadening both constructs, performance and well-being and analyse deeply interaction between this two constructs. In the presentation I will report on the results of a research program carried on in the research Institute of Personnel Psychology (IDOCAL, University of Valencia) on these matters, taking into consideration the different patterns emerging from the interaction between happiness and performance, when both constructs are considered multidimensional. Significant predictors of those different patterns such as Human Resources Management practices will be presented and the results will be discussed taking into account the challenging issue of making wellbeing at work sustainable.
Os dejamos el siguiente enlace para más información.