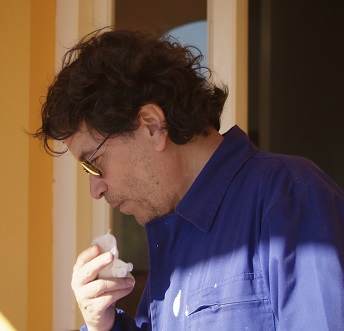 Luis Puig, Department of Mathematics Teaching, Universitat de València
In the 9th century, Muhammad ibn Mūsā al-Khwārizmī, a mathematician whose lineage came from Khwārizm in the Caucasus, works in Baghdad in the House of Wisdom and there he writes in Arabic The Book of the calculus of al-jabr and al-muqābala. In 1552, Marco Aurel, a German mathematician who worked at the Estudi General de Valencia as a "teacher of writing and counting," publishes in the printing press of Joan de Mey, a flamenco printer installed in Valencia, Arithmetica Algebratica, the first written algebra book in Spanish. In between, in the 12nd century, Gerardo de Cremona, born in that today city-state in Italy, translates the book of al-Khwārizmī into Latin in Toledo.
In this history of emigration, travel and language changes the algebraic project begins to solve all the problems and steps are taken in the elaboration of the algebraic language that is currently studied in Secondary Education. To that story we also owe the words 'algebra' and 'algorithm'. This is what this conference is about.
Luis Puig, born in Valencia in 1948, is a Professor of Mathematics Didactics at the Universitat de València, where he has taught mathematics and didactics of mathematics since 1975.
His fundamental areas of work are curricular development, teaching and learning of problem solving and algebra, and the history of algebraic ideas. His most relevant books are School Arithmetic Problems. Madrid: Ed. Síntesis, 1989 (with Fernando Cerdán); Elements of Problem Solving. Granada: Comares, 1996 and Educational Algebra. A Theoretical and Empirical Approach. New York: Springer Verlag, 2008 (with Eugenio Filloy and Teresa Rojano).
In the field of mathematical dissemination, the annual organization since 1993 of the Mathematical Routes through the city of Valencia, and the elaboration of the exercise and reflection brochure used during them (with Onofre Monzó and Tomás Queralt) stands out.


Estimulant les vocacions científiques is a project carried out by the Scientific Culture and Innovation Unit of the Universitat de València, with the support of the Spanish Foundation for Science and Technology and the Ministry of Economics, Industry and Competitivity.