'Que tinguem sort!' by Albena Teatre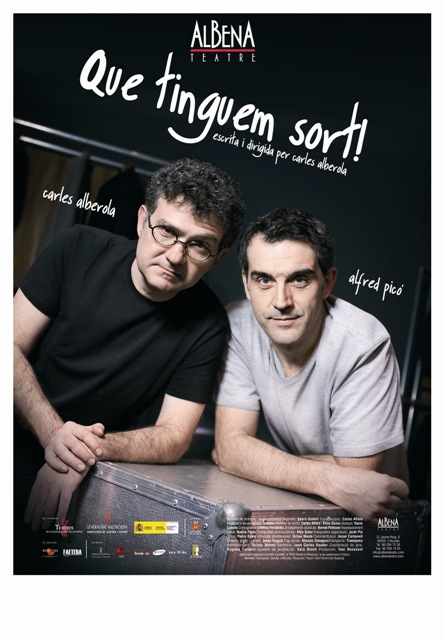 Schedule:
From 8 february 2012 to 9 february 2012. Wednesday and thursday at 20:30 to 22:30.
11 february 2012 at 20:00 to 22:00. Saturday.
12 february 2012 at 19:00 to 21:00. Sunday.
Place: Flumen Theatre. C/Gregori Gea, 15. Valencia
Description:
A Play in Valencian in the Flumen Theatre.
'Que tinguem sort!' by Albena Teatre
Starring Carles Alberola and Alfred Picó.
Two thespians talk in the dressing room before the beginning of the show. They find onstage a happiness which contrasts with their everyday insipid lives. After more than twenty years touring around the world, only fiction will give them everything that life denies them. They only need a little luck to achieve it.
50% Off on February 8 and 9, and 25% off on February 11 and 12, producing the UV Student Card in the Theatre's Box Office (Not necessary to pick up any voucher from the UV).
Tickets in the Fumen Theatre (tel.963273602)
C/ Gregori Gea, 15. 46009 Valencia
Organized by:
Albena Teatre collaborating with the Language Policy Service of the UV..
Contact: dinamitza@uv.es
More information: