"L'art de la fuga" al Teatre Micalet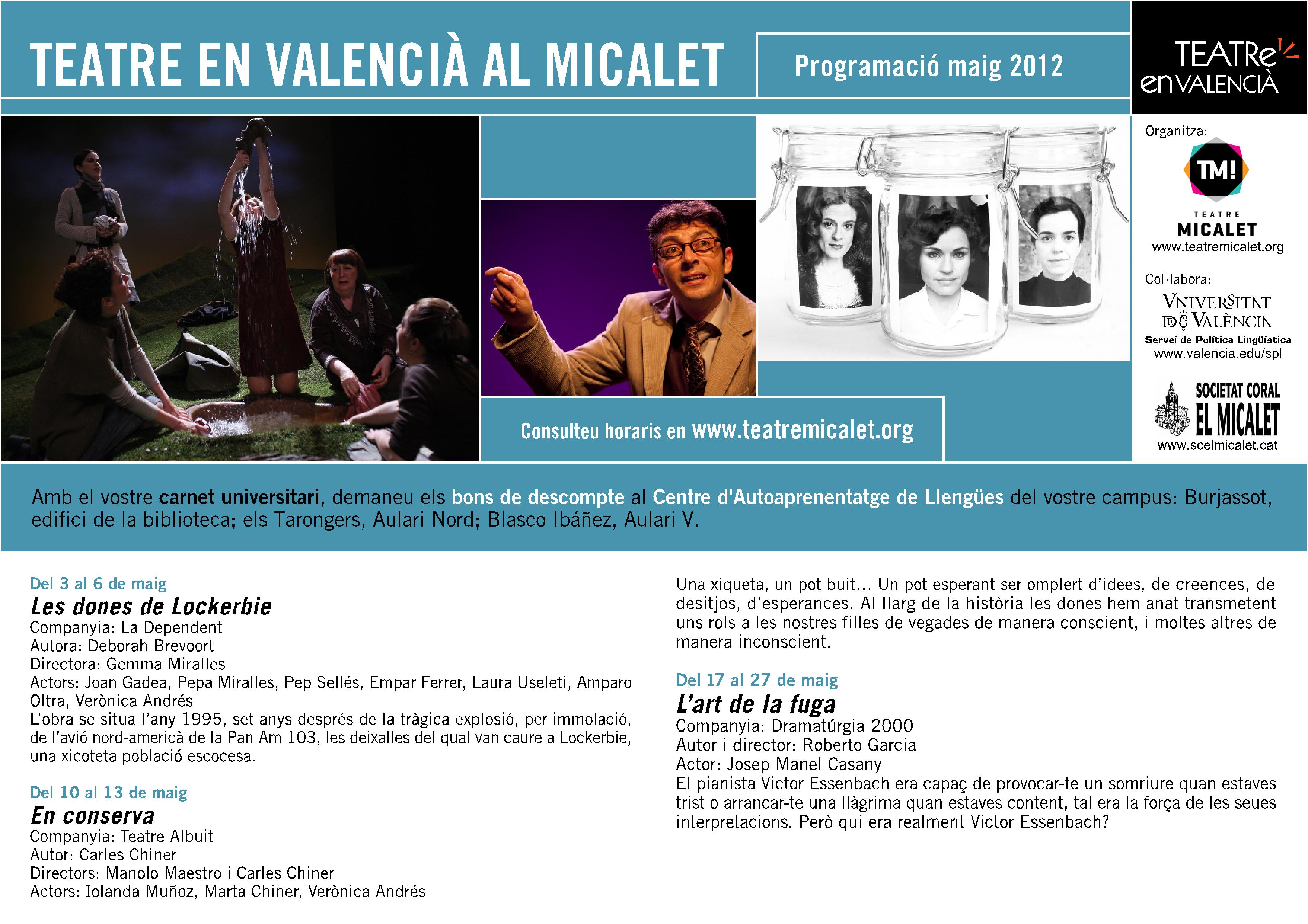 Schedule: From 17 may 2012 to 27 may 2012. Thursday, friday, saturday and sunday at 19:00 to 20:30.
Place: Teatre Micalet
Description:
'Teatre en valencià al Micalet'
- Del 17 al 27 de maig
"L'art de la fuga", de Roberto García
Amb Josep Manel Casany
Con vuestro carnet de la UVEG, pedid los bonos de descuento para el teatro (2 por persona) en el Centre d'Autoaprenentatge de Llengües (CAL) de vuestro campus: CAL de Burjassot, edificio de la biblioteca; CAL de Els Tarongers, Aulari Nord; CAL de Blasco Ibáñez, Aulari V.
El bono de descuento es válido para cualquiera de las tres obras. Podéis canjear este bono por una entrada, con una aportación de 3€, en la taquilla del Teatre Micalet, a partir de una hora antes de cada función. Cambio condicionado a la disponibilidad de entradas.
Más información, horarios y entradas en el Teatre Micalet. C/ Mestre Palau 3. València. Tel. 96 310 70 18, info@teatremicalet.org, http://www.teatremicalet.org
Organiza: TM! Teatre Micalet
Colabora: SPL-UVEG http://www.valencia.edu/spl
Programación de mayo del Teatre Micalet:
- Del 3 al 6 de mayo
"Les dones de Lockerbie", de Deborah Brevoort
"En conserva", de Carles Chiner
- Y del 17 al 27 de mayo
"L'art de la fuga", de Roberto García
Organized by:
Teatre Micalet. Colabora: SPL-UVEG.
Contact: dinamitza@valencia.edu
More information: