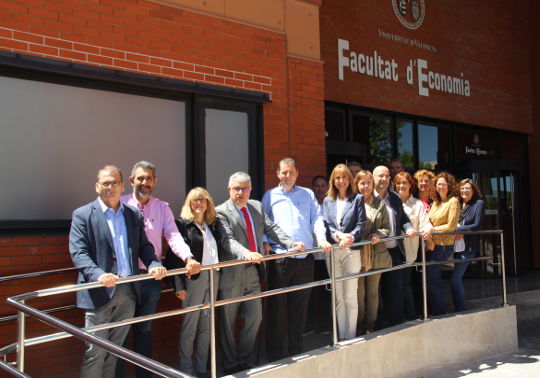 Nueva rampa de accesibilidad a la Facultat d'Economia.
The Faculty of Economics of the Universitat de València has remodelled the access to facilities according to the criteria of accessibility. It is about an intervention in the access to the north-east facade that includes the facility of automatic doors, a ramp and information signs to enable users, that arrive from avenue of Naranjos, to identify easily the existence and locating of the accessible entrance.
This intervention, already ended, has been opened on Monday 14th May, by the dean team of the Faculty of Economics, represented by its dean, José Manuel Pastor, with the vice-principal of Strategy, Quality and Technology of Information, Joaquín Aldas-Manzano; the administrator Catalina Cabrera, representing technical staff of the centre involved in this project; the director of the Unit for the Integration of People with Disabilities of the Universitat de València, Celestial Asensi.
This refurbishment supposes a step forward, added to others carried out before, as improvements in accessibility of the north-east and southwest facades.
Additionally, it is an advance to the process of excellence where is immersed the Faculty of Economics, that is characterized by the implementation of the ISO 9001:201 (2010 year), the Prizes of Cooperation University-Society to the Quality and Teaching Innovation of the Double Degree in Law + Business Management and Administration (15th edition, 2009) or the Administrative and Economics Services (Oficina sin Papeles, 16th Edition, 2010). Currently, this services of university management are certified with the new ISO 9001:2015-.
In addition to these awards and management system of quality, the Faculty takes part of the EFMD (Global Organisation for the Information, Research, Network and the Debate about innovation and best practice in the development of the management). It is managing its incorporation to the AACSB International (organisation of quality of the business school within the education community). On the other hand, they underline the certificate of the Degree in Tourism on the part of tedQual unwto.themis.
In this regard, the dean team has reported: "In any case, it should be noted that these activities suppose only an example of sensibility of the dean team and centre management to improve and make accessible and friendly an environment where members of the University spend a long time".