The Faculty of Economics of the Universitat de València holds the IV Valencia Erasmus Week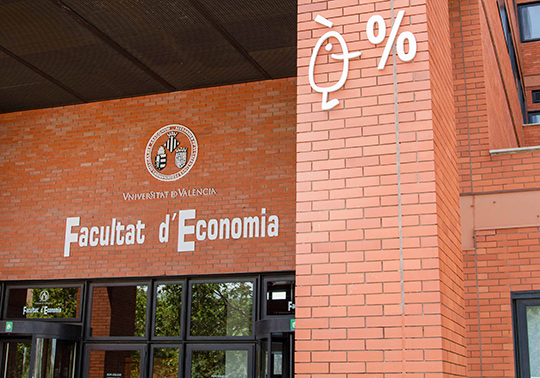 The Faculty of Economics in line with its internalisation of the studies of economics and business starts the IV Valencia Erasmus Week celebrated between 25 and 29 April. The process of internalisation of the economics and business studies of the Universitat de València has brought an increasing dynamism in the actions of boosting the interchange between students and professors at an European level.
For that, the Faculty of Economics responsible of these studies, has developed a pioneer project, which consists of students of the Faculty- the biggest contingent of the whole university system of the Valencian Community-, as well as outgoing and incoming students, learning first hand the different universities which, probably, they will go to as part of the Erasmus programme. In that way, the Faculty will have visiting professors from 20 European universities that will participate in the teaching exchanges inside the Teaching Mobility programme of Erasmus+.
The opening session will be held on Monday 25 April at 11:30h at the 'Saló de Graus' of the Faculty and there will be participating José Manuel Pastur, dean of the faculty; and Empar Pons, vice-dean of International Relations.
In this edition, for the first time, there will be a session to present the tools that the Faculty of Economics has to help its students to find a job and internships abroad.
At the Valencia Erasmus Week there will be also presented the Students Association AIESEC that manages internships abroad and the activities of the Confucius Institute of the Universitat de València, among which there are courses of Chinese language.
These activities suppose a boosting of the internalisation policy of the Faculty that, from the beginning of the 90s, offers international double degree programmes.
Currently, there are being developed conversations for the realisation of a double degree with the university of Beijing, as well as projects for the extension of the agreements that we have now with Europe, United States and Russia (9 international double degrees) for the degrees in Business Management and Administration (ADE), International Business (IB) and Economics (ECO).
At this moment, the Universitat de València receives around two thousand exchange foreign students every year, from which more than six hundred study at the Faculty of Economics, which makes it the leading centre in Europe of exchange students. With respect to outgoing students, in the current academic year, more than 500 students of the Faculty will be participating in the Mobility Erasmus Programme.
The programme of this internationwal week includes a visit to the building of La Nau and the attendance to Concerts that the Universitat offers at the Sapiència Chapel of La Nau.
The programme can be checked by clicking here
Last update: 25 de april de 2016 10:36.