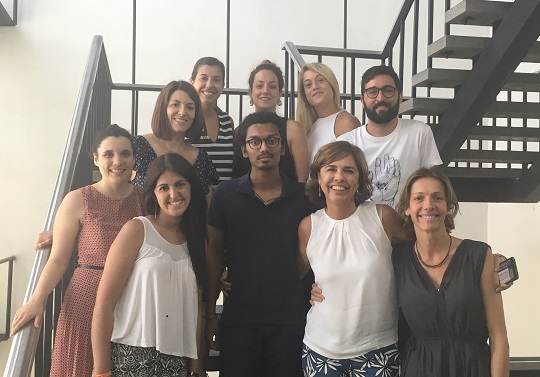 Integrantes del equipo Labpsitec-Valencia, con Rosa Baños.
The Laboratory of Psychology and Technology (Labpsitec) at Universitat de València and Universitat Jaume I has developed CORE. It is a self-administered free training programme that improves the psychological health of university students via Internet. This is because it allows students to learn new skills and face adjustment or mood disorders. This project is being tested in the Valencian Community, in the Swiss universities of Bern and Zürich and in the German universities of Marburg and Lünenburg.
Labpsitec leads a work package of the European Project Integrating Technology into Mental Health Care Delivery in Europe (ICare), financed by the European Commission with EUR 5 million. It aims to integrate these technologies into mental healthcare delivery systems in Europe. Among these, a new integral model is being developed for detection, prevention and management of psychological treatments against mental disorders such as depression, anxiety, adjustments disorders, food disorders (bulimia o anorexia) and substance abuse disorders.
The Spanish ICare involvement is coordinated by the Labpsitec research group which is led by professors Rosa Baños (Universitat de València) and Cristina Botella (Universitat Jaume I). It aims to develop and test the efficacy and effectiveness of CORE, a self-administered intervention programme via Internet whose purpose is to improve the students' skills and resilience so that they can face their first year at university.
"1st-year students face changes, new challenges and stressors. Getting ready for tackling them is key for students to achieve a good start at university" highlights Rosa Baños, a researcher from the Department of Personality, Evaluation and Psychological Treatment of the Universitat de València.
"We expect this project to be useful for specialists and the affected people so that they can make self-administered intervention decisions based on evidence via Internet. We also expect this project to be integrated into healthcare systems in several countries", explains Cristina Botella, the researcher from the Universitat Jaume I. In order to achieve this objective, associates provide 30 psychological intervention programmes ranging from prevention to treatment. They are targeted at children, teenagers and adults subjected to these empirical studies.
"Currently, we are testing its efficiency to improve the students' resilience in the universities of Valencia and Castellón. In addition, empirical tests are being carried out in Switzerland, particularly at the University of Bern and the University of Zürich, and at the German Universities of Marburg and Lünenburg", specifies Rosa Baños. ICare is included in the H2020 programme of the European Union (Research and Innovation Framework Programme), in which German, Austrian, Dutch, British, Swiss and Spanish research centres are involved.
Empirical Study
One of three studies carried out in Spain is Intervention to improve the resilience in students who are at risk for developing adjustment disorders. It is being developed by professors Rosa Baños, Cristina Botella and Azucena García Palacios from Universitat Jaume I alongside with the researchers Rocío Herrero and Araceli Palma from the Labpsitec. It concludes that people who train certain psychological skills are much less likely to suffer from emotional distresses such as anxiety and depression, and optimizes the chances to be more productive and healthy.
"If the intervention has a positive result, it will lead to elaborating new intervention strategies that can help students to deal with both personal life and academic problems. This means that in case results are positive, the Universitat de València will have a prevention programme that can avoid emotional distresses among its students" explains researcher Baños.
CORE is opened to university students' participation, who can benefit from this free training. It lasts for six weeks and includes different multimedia elements such as videos, audios, comic strips and images. It is taught a module per week so that different skills are trained. It addresses different aspects for achieving welfare (self-acceptance, the ability to develop quality social relationships, a sense of autonomy, the ability to deal with complex environments or finding challenges and meaning to life).
Researcher who participate in this project belong to Technische Universitát Dresden (Germany), Universitat de Valencia (Spain), Universitat Jaume I (Spain), University of Kent (UK), Universitat Bern (Switzerland), Ludwig Boltzmann Institute for Health Promotion Research (Austria), Marburg University (Germany), Lünenburg University (Germany), Medizinische Universitát Wien (Austria), Universitat Zürich (Switzarland), Kings College London (UK) and Minddistrict (The Netherlands).
Clinical Psychology and ICTs
The Laboratory of Psychology and Technology (Labpsitec), at Universitat de València and Universitat Jaume I, has been studying the possibilities that Information and Communication Technologies (ICT) can offer to Clinical Psychology. These tools (virtual reality, augmented reality, Internet, mobile systems, etc.) can be used to evaluate, treat and study basic psychological processes.
More information in: https://www.icare-online.eu/es/icare.html