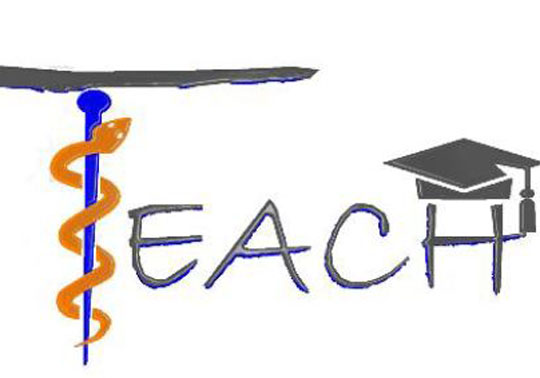 Logo del projecte TEACH.
La Universitat de València participa com a soci del projecte Erasmus+ 'Development of innovative training solutions in the field of functional evaluation aimed at updating of the curricula of health sciences schools: Projecte TEACH'. La iniciativa respon als desafiaments contemporanis de l'atenció mèdica, derivats de l'envelliment i els problemes associats a les creixents limitacions funcionals a llarg termini (físiques, mentals i socials).
El professor Rafael Tabarés, del Departament de Medicina, i la Unitat d'Avaluació en Autonomia, Dependència i Trastorn Mental Greu, TMAP, participa en el desenvolupament del Projecte TEACH, un programa de formació en el camp de la Biomecànica i la valoració funcional per a docents que s'ocupen de les ciències de la salut de tot Europa.
Investigadors de tres països –Polònia, Espanya i Alemanya– desenvoluparan un programa especialitzat de formació per a institucions d'educació superior mèdica, tenint en compte un ampli espectre de requisits dels professors que s'ocupen de les ciències de la salut de tota Europa i relacionats amb la política sanitària de la Unió Europea en aquest camp d'Avaluació Funcional.
En aquest context, el resultat estratègic serà el desenvolupament de mecanismes per a millorar els indicadors de salut de la societat europea, que haurien de començar amb l'ensenyament adequat dels estudiants de medicina. A més, TEACH estimularà la creació d'oportunitats professionals per als docents, ja que millorarà els vincles i la comunicació entre les universitats, el sector de la innovació i els professionals de la salut. TEACH també pretén homogeneïtzar les millors pràctiques entre els professionals sanitaris europeus. Això mitigarà les diferències entre els països membres i els ajudarà a compartir un coneixement i metodologies comunes per a enfrontar desafiaments comuns.
El consorci TEACH està compost per quatre organitzacions: Dues organitzacions acadèmiques: la Universitat de València i la Universitat de Tecnologia de Silèsia (SUT, Polònia); un centre d'investigació: Institut de Biomecànica de València (IBV, Espanya); una associació: l'Associació d'Escoles de Medicina a Europa (AMSE, Alemanya).
TEACH té associades tres activitats substantives principals, totes elles accessibles de forma gratuïta per als usuaris objectius i també per al públic en general interessat en elles. Serà un document electrònic disponible en l'àrea pública del lloc web del projecte. També un curs online integrat en la plataforma online (versió pilot). Aquesta eixida inclourà un conjunt de diferents documents electrònics que estaran disponibles en el lloc web del projecte, en els llocs web dels socis del projecte i en el lloc web del programa Erasmus + Asñi com un curs obert en línia: el curs serà una acció d'accés obert que, una vegada finalitzat el projecte, estarà disponible com a part de la capacitació dels socis del projecte.
El projecte ha sigut finançat amb el suport de la Comissió Europea sota el programa Erasmus +, Action Strategic Partenariat, número de contracte 2018-1-PL01-KA203-051084, amb una durada de 24 mesos des de l'1 de novembre de 2018 fins al 31 d'octubre de 2020.