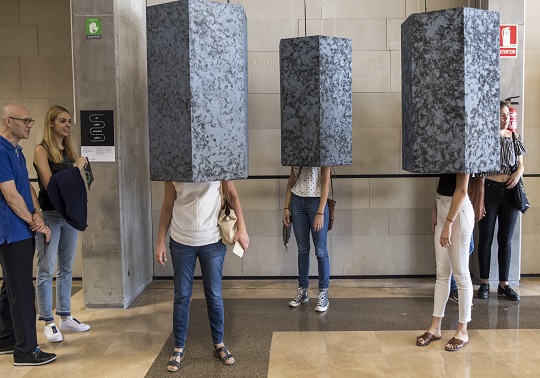 Work of artist Yolanda Uriz at the Faculty of Pharmacy. Foto: Miguel Lorenzo
Until October 31 you can visit the 21st edition of the Public Art / Public University Exhibition at the Burjassot campus of the Universitat de València where the artists Jorge Isla, David Cantarero Tomás, Estelle Jullian, Marina Iglesias, Yolanda Uriz Elizalde, Charlotte Bracho and the Saïm Group (Sonia Tarazona, Alejandro Granero) participate.
The 21st Exhibition of public art / public university is a practical and artistic initiative included in the programme Welcoming Festival. It is organised to take place in a public space, such as the one at the Burjassot University Campus. It aims to bring the university community closer to its environment by means of a series of works that the artists have specially projected for this campus.
The seven works that integrate the exhibition, organised by the SeDi Information and Promotion Service, counted with the collaboration of the Office of the Vice-principal for Culture and Sports. They are a proposal to stimulate the interaction between scientific and artistic fields following the basis of the yearly call that chooses the best temporary projects of audio-visual arts and awards them with €2,000 each.
In the exhibition in Public art / public university, the ecology, the natural landscape and the law of nature urge reflection on daily issues such as the transfer of knowledge, the perception of our environment thanks to our five senses and the creation of new ways to interact with the space.
It is the first time that a projection and several interventions will be conducted inside the Natural History Museum. You will be able to see how art will overlap science to stimulate critical knowledge.
The members of the jury that was in charge of selecting the pieces of work for the 21st edition were Alicia Ventura, an independent curator of exhibitions and cultural manager; Moisés Mañas, a professor of the Department of Sculpture of the Universitat Politècnica de València; Norberto Piqueras, the director of exhibitions of the Cultural Centre La Nau of the Universitat de València; and the curator of the exhibition, Alba Braza.

The works that will be exhibited in the Burjassot Campus on the 31st October are the following:

Col·lectiu Saïm (Sonia Tarazona, Alejandro Granero)
Far away from Home, 2018
Facility: PVC tarp and wood
250 x 300 x 280 cm

Jorge Isla
LUV-A, 2016-17
Inkjet printing on paper and vinyl, video art
variable measures

David Cantarero Tomás
Datos de cultivo, 2018
Facilities: Straw bales
90 x 1.300 x 850 cm (72 pieces of 45 x 100 x 50 cm c / u)

Estelle Jullian
23,5⁰ / Máquina simple, 2018
Facilities: Clay soil and grass
100 x 75 x 43 cm c / u

Marina Iglesias
Atlas, 2018
mural painting
variable measures

Yolanda Uriz Elizalde
~ .Soinusain. ~, 2017-18
Wood, presence sensors, Arduino, speakers, essential oils
variable measures

Charlotte Bracho
Osciloscopio, 2018
Mix technique: threads and spruce wood
370 x 360 x 400 cm