MARIA IRANZO. Fotos: Miguel Lorenzo.
El professor Martí Domínguez va rebre la custòdia de Mètode en complir la publicació la seua majoria d'edat. Però des del seu naixement havia posat els ulls en ella, i de col·laborador inicial va passar, en el número 18, a ser el seu director. Heretava una revista trimestral, de caràcter exclusivament institucional, dirigida anteriorment per la periodista Olga Dénia. Hui Mètode publica en tres llengües, ha entrevistat una llarga llista d'investigadors reconeguts internacionalment, fomenta el debat entre disciplines científiques i el seu anuari, Mètode Science Studies Journal, està indexat en Scopus, Emerging Sources Citation Index de Thomson Reuters, ERIH Plus i Latindex, entre altres.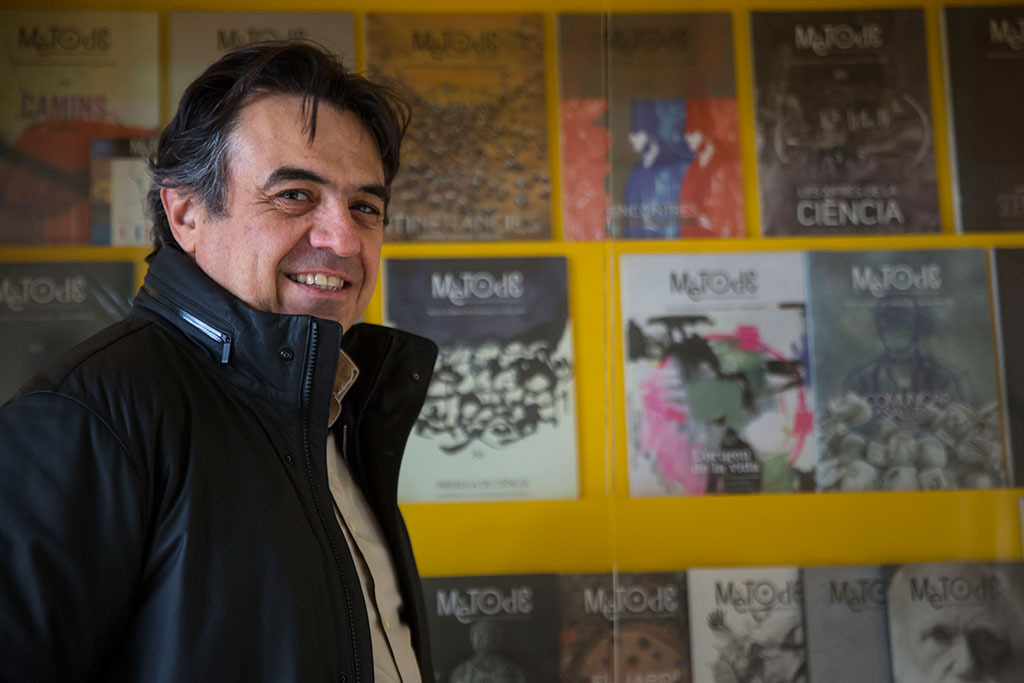 El periple per la transversalitat es fa fàcilment visible en el seu despatx, on una gran prestatgeria exhibeix cada un dels 92 números publicats. Des de la mateixa coberta, en Mètode la ciència dialoga amb l'assaig i l'art. Les seues portades paradigmàtiques són obres dissenyades ex professo per un artista que reflexiona sobre el debat principal. Hi reconeixem la signatura de grans artistes valencians, com ara Carmen Calvo, Alfaro, Armengol, Miquel Navarro o Rosa Torres, entre altres. N'hi ha estrangers, com Valerio Adami. I últimament l'autoria és de noves promeses, com Nico Munuera o Rebeca Plana.
"El més sorprenent és que d'aquestes portades alguns artistes han desenvolupat paral·lelament una línia de treball. Un exemple és el d'Antoni Miró, a qui vaig demanar que il·lustrara el número Ciència i Exili utilitzant els vaixells d'emigrants espanyols com a emblema. D'aquest projecte d'investigació va sorgir una exposició", s'enorgulleix amb el seu amplesomriure.
Martí Domínguez diu que ha transmés a la revista "la meua curiositat intel·lectual, la capacitat divulgativa. Intentem que la ciència siga cultura. És un leitmotiv ja obsolet, però encara per descobrir, paradoxalment". Per tant, "no és un lloc on només es publiquen articles. Volem que hi haja contrapunts, que es combinen diverses visions del que és la ciència. Sense embolicar la troca, volem donar veu a tots els que realitzen investigació metodològica i tenen una percepció científica. Amb tot, també acotem un poc el que és la revista. Primem les ciències experimentals, però sense descartar les ciències socials. I el que fem és crear interregnes, com ara la percepció de la ciència des de la literatura. És una revista de socials que estudia la ciència, com fan Science Communication i Public Understanding of Science. Ací és on volem estar, on desitjaríem arribar", remarca amb convenciment.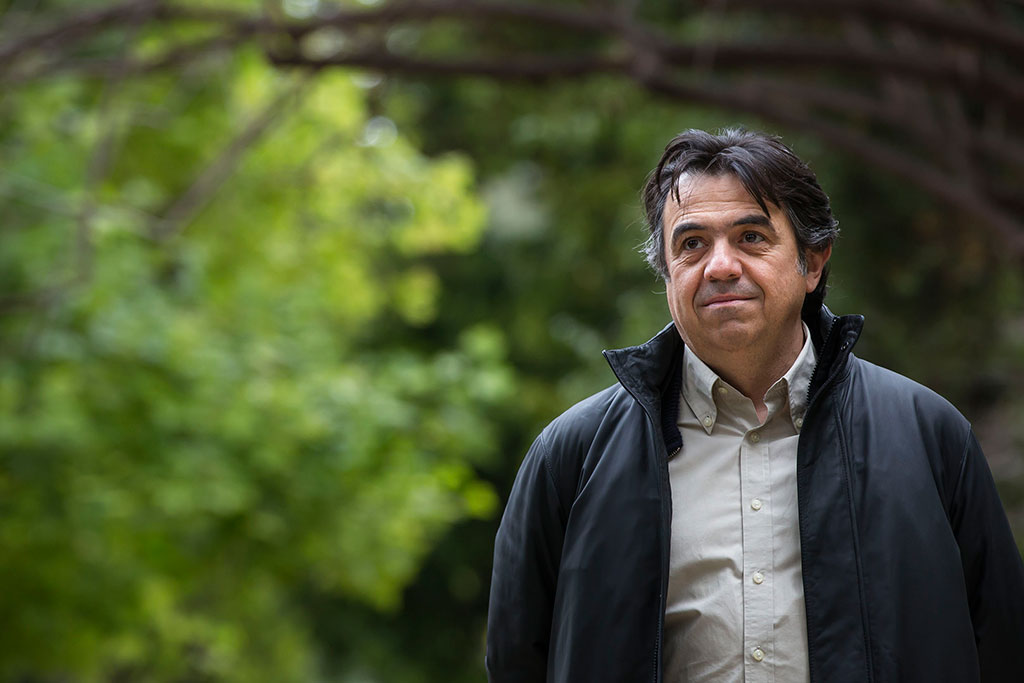 No poques dificultats
"Però és complicat i una tasca feixuga i laboriosa", afegeix amb un to de veu que revela certa pena. "El públic, la comunitat acadèmica, només veu el que s'ha publicat i ha passat per sedassos i filtres. No volem articles purament científics, sinó que tinguen una disposició a transmetre coneixement, a divulgar-lo amb rigor i amenitat. Ara, a part del nostre treball com a referee, comptem amb jutges externs de la investigació. No s'imaginen la quantitat d'originals amb què lidiem cada vegada que enllestim un número. Hem viscut moments durs, complicacions amb autors. Hem refutat articles o hem realitzatcorreccions que no agraden perquè el científic vol mantindre el seu idioma encriptat. El treball de l'editor és molt esclau i ingrat", sentencia.
En aquesta lluita per la consolidació d'una divulgació científica rigorosa no està sol. Compta amb la cap de redacció, Anna Mateu; la webmaster Íngrid Lafita; la redactora Lucía Sapiña; i els correctors Manuel Gil i Susanna Ligero. Imprescindible també és el maquetador, José Luis Iniesta, el responsable de lapersonalitat visual de la revista. "L'única justificació actual del paper és el disseny, el desig d'entrar pels ulls. Si no, directament busques en línia l'article en qüestió i te'l descarregues, com permeten fer hui moltes revistes acadèmiques", apunta Martí.
Quan li pregunte pels números que li pertoquen, la mirada es fixa ràpidament en dos referents del seu pensament: el 60, Darwiniana, dedicat al segon centenari del naixement del naturalista de Down; i el 84, Què és la ciència?, on, com a ell li agrada, es reflexiona des de diverses disciplines sobre els límits de la ciència.
Diàlegs multidisciplinaris
Aquest també va ser el propòsit d'Itineràncies, "on vam voler des del punt de vista de les ciències socials i experimentals, des de la sociologia i la biologia, reflexionar sobre el problema de les migracions. Aquest número ens va causar problemes perquè hi ha integristes, com en tots els llocs. Hi ha un problema des del punt de vista acadèmic. Els investigadors, a causa de l'exigència acadèmica, es fan microespecialistes dels seus temes, no s'animen a escriure d'altres, i això fa que el seu discurs tinga poca projecció i no puguen establir nexes amb altres àrees. Quan intentem que dialogue gent de diverses disciplines, alguns senten desconfiança. Hi ha investigadors que viuen en una mena de torre de vori, sense connexions amb els altres companys, fins i tot departaments ubicats en un mateix edifici. En canvi, l'intercanvi d'informació, la transversalitat, és fonamental per a donar visibilitat social a la Universitat. Si no, fa l'efecte que eres prescindible i a poc a poc la Universitat compta amb menys suport econòmic, menys recolzament social, menys beques per a la investigació o ajudes a projectes", subratlla.
Mètode és un focus d'atracció en la xarxa. La seua web rep més de cinquanta mil visites directes per setmana. S'hi pengen els articles de les revistes, però també notícies d'actualitat i articles dels estudiants en pràctiques. Tot i aquesta presència digital, a Martí el que li continua donant respecte és el paper: "Quan arriba un nou número, me'l mire de reüll. Si les cares de l'equip no es desencaixen, ja m'atrevisc a agafar-lo. Fa por obrir-lo per si hi ha alguna errada. Hem posat tanta faena en cada número!".
A pel 100
No celebrarà amb especial èmfasi aquest aniversari. "La meua aspiració és arribar almenys al número 100. Aleshores farem un especial amb totes les entrevistes publicades. Hem parlat amb Chomsky, Umberto Eco –del qual vam descobrir la seua faceta menys estudiada, la de divulgador científic–, Edward Wilson, Richard Dawkins, el literat Enzensberger, i un bon grapat de Premis Nobel. Amb el número 100 farem festa grossa".