1. Confirming an item
To confirm an item, we must click on the icon
and then we must click again on the rectangle below with the text "SiteUV"
Then it is necessary to have a little patience and wait for the response of the application, because it does not return feedback of any process. (we are working to shorten the response time or to provide feedback for the editor's action).
Once the new window appear, click on
We will obtain the following data in the upper box
By contrast, if we obtain
it is because there are other items depending on that we have confirmed, and it requires to be published before or simultaneously
In order to fix it, click on block assets
to confirm one by one all the items linked or grouped together in
2. "Request URI is too long"
This message is displayed as content of the free texts when the information added has a large extent. There is no error, the functioning is the same, click on the pane of the content and the text edition will open normally.
To link a document to our web we have to previously place it in our group web space. (For more information on how to create a new group web space: http://disc.uv.es). Take care with the name of the files, since characters such as accent marks, umlaut, spaces, letters "ñ" or "ç", punctuation marks, etc. In the manual of text editor it is included a section on linking documents.
4. Giving names to the images of news
Take care with the name of the files, since characters such as accent marks, umlaut, spaces, letters "ñ" or "ç", punctuation marks, etc. The way to correct this item of news when this happens is: renaming the image file after editing the news in the content manager and re-upload the image in the "examine" with the new name.
5. Message: "Publication in process"
Message similar to: "Asset type Page with ID 1212121212121 cannot be modified. Unable to edit an asset (errno = 0). Contact your system administrator"., it means that the amendment is being published and that while this happens you can not re-edit the item until the publication queue is restarted, the publications are reset every 15 minutes.
6. How to find a free text in a column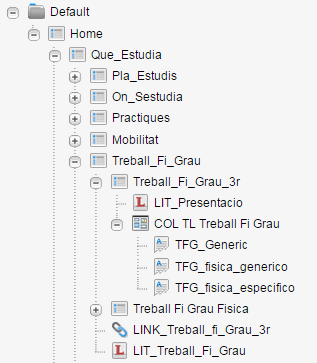 The objective of creating an element column to add free text elements is to make it easier to share information. To find a free text within a column without knowing the name of free text is as simple as displaying pages including the column until the corresponding free text.
7. Metadata, expired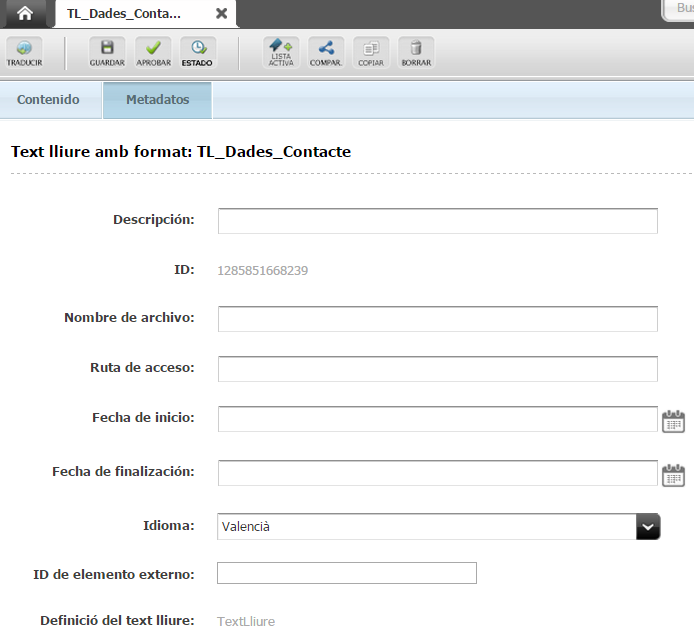 Mainly for both news and free texts, in edit mode there is a metadata section where there is a choice to start or end, to verify that these fields are empty in editing free texts, otherwise they will not be posted on the web because they will be obsolete. In the case of news do not reuse them since we can edit an expired item of news and therefore they will not appear on the web, so it is necessary to create a new item of news.