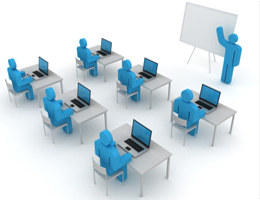 Finally, the process finishes with a training plan. From the beginning, it was warned the importance of ensuring an homogeneous training of all UV editors. In this way, the influence of PAS mobility among the various organisations (Centres, departments, services, etc.) is minimised and what is most important, PDI or PAS trained editors can manage multiple and different UV portals: a department's web, a service's or a research group's one, for instance.
The training is offered in two modalities:
Basic web training (3 hours): addressed to those editors who want to edit the content of any existing page or insert news.
Full web training (15 hours): this training provides the necessary skills for the maintenance and development of all the contents and functionalities of the Master's Degree or Doctorate Degree's web.
In any case, each degree's coordination shall ensure the full web training (15 hours) of at least one member of their organisation.