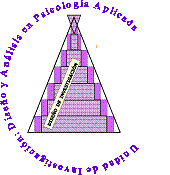 Dolores

Frías

-Navarro
Profesora
Titular (Associate Professor)
Faculty of Psychology.

Department of Methodology of the Behavioural Sciences.

University

of Valencia, Spain
Facultad de Psicología
Departamento de Metodología de las Ciencias del Comportamiento
Universitat de València
Dirección Postal: Facultad de Psicología. Avenida Blasco Ibáñez, 21. 46010 Valencia, SPAIN.
E-mail: M.Dolores.Frias@uv.es Web: http://www.uv.es/friasnav/
Teléfono
: 34 96386 4513.
Fax
: 34 96 3864697
Associate Professor in the University of Valencia (Spain) specialized in research methods. Her primary research interest is in methodology for quantitative research.
She is director of the research unit "Designs in Applied Psychology" and her professional interests are in the areas of program evaluation research, social intervention, field research methodology and research synthesis (meta-analysis and systematic review)
________________________________________
!"
Profesora titular en el Departamento de Metodología de las Ciencias del Comportamiento en la Facultad de Psicología de Valencia. Directora de la Unidad de Investigación de "Diseño y Análisis en Psicología Aplicada". Actualmente mis principales líneas de investigación abordan la Práctica Basada en la Evidencia, la reforma estadística, el uso de los modelos causales en los estudios sociales, la movilidad humana y la medida del prejuicio y el desarrollo de la Web 2.0 en el proceso de enseñanza-aprendizaje.
Research Methods
Applied Research Methodology
Designs in Applied Psychology
Causal Inference
Statistical Reform in Psychology: effect size and confidence interval
Research Synthesis (Meta-Analysis and Systematic Review)
Evidence-Based Practice
Statistical Cognition Research
Social Cognition Research: Modern Prejudice