07/17/2005

Drumz Strip v1.4 released
soem has updated his Drumz Strip VSTi to v1.4, which can also be considered as the first official (non beta) version for this plugin. This new release lets the user scan wave files in a directory, by using a simple directory browser, and also adds midi-learn functionality and velocity response for each pad...
The plugin can be downloaded from our VST plugins section.
03/19/2005

Presenting Drumz Strip beta1, by soem
This is a simple drum player unit, created by soem. It has 12 slots for loading .wav samples, but only one channel is visible at the same time. The idea behind this is to avoid cluttering your PC workspace with a huge interface, while retaining all the functionality. Drumz Strip also features a very low CPU usage (less 1% AMD XP 2200+).
Moreover, xxazzz has also updated his Otro to mklII, featuring a new ADSR control for the sample triggering, and some improvements in the peak detection area and high pass filtering options.
As usual, everything we present here is downloadable for free, at our beta section.
03/13/2005

Otro mkII, first beta of our new bassdrum replacer plugin
Well, it has been a long time since we presented our latest beta... Our real life jobs don't let us much time to dedicate to VST creation lately, but we are not dead ;). You can expect some more interesting material from us in the following months.
What we're presenting now is the new VST effect by xxazzz, called Otro mkII. It is basically a bassdrum replacer. The plugin detects the bassdrum peaks in the audio stream, filters their frequencies, and finally replaces them with a new .wav sample, selectable by the user.
Hope you enjoy it. You can find it at the beta section.
08/16/2004

E-looper, new beta instrument by soem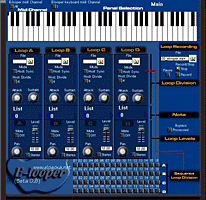 soem has thought it's time to show to the world what he's been cooking for the past weeks ;). In this occasion, it's the first beta version of a new VST instrument, called originally E-looper.
E-looper is an useful tool conceived for the creation of unique dynamic loops from the combination of several waveplayers as sound sources. The user can load up to four .wav files and process them independently with filters, step LFO's and the encryptation algorithm used in Kriptonia. The result can also be rendered to .wav in realtime.
As usual, you can download it from our beta section.
08/13/2004

Kriptonia beta updated to v0.8
soem has updated his beta plugin Kriptonia to v0.8. This is what has been changed::
New GUI, smaller and more functional.
Fixed a bug in the Step Control.
4 Step Controls instead of 2, with 4 selectable routing paths (SV filter, Moog filter, Biquad filter, Encryptation Frequency).
New LP moog 24 dB/Oct filter and Biquad filter.
Other minor fixes and optimizations in the code.
Find it at the beta section.
08/11/2004

Unkargherth updates some of his .sep modules for SynthEdit
U-Random is now at v1.5. The module has been renamed to "U-xRandom", including multiple optimizations in the code, a new mixed mode, and an improved Random Generator.
Moreover, Unkargherth / David Haupt have also updated UD-Reverb again, this time to v1.34. The new version solves a problem which arised when multiple instances were combined.
Download the updates at the .sep modules page. And stay tuned for some new beta plugins we are next to release ;) ...
05/11/2004

Elottronix XL v1.4 released
List of changes:
All the knobs have been re-rendered, and now they use 75 steps for the animation, instead of 28 as in former versions of Elottronix XL. This way, their movement is much smoother now, and it's easier to reach intermediate values.
Added automation MIDI CCs for the Delay On/Off buttons.
Midi learning unit updated, incorporating the latest Haupt's Midi Meister .sep module (v1.11).
New preset bank. The bank is still only 8 presets long, but each one of them is different now, much less "noisier" from the start than they were in previous versions. Good for people who never worked with Elottronix XL before ;)
.DLL name changed. As the new features we introduced in v1.3 resulted in incompatibilities with presets saved in older versions, we've decided to rename the .DLL, so you can use this version along with v1.0, v1.1 or v1.2, instead of overwriting it. To summarize: this v1.4 is fully compatible with v1.3, but not with older v1.x versions.