Description: A broadleaved, caducifolious tree up to 20-25 m. tall, with smooth grey bark. Leaves entire, ovate-lanceolate, acute, shortly haired, bearing toothed edges. Flowers hermaphrodite, green and few conspicuous. Fruit a small berry -ca. 1 cm-, brown to black and sweet when ripe, holding a unique seed. It has been cultivated from ancient times to obtain its timber and flexible branches, used to make pitchforks, hoes and other agrarian tools. Diploid, 2n=20, 40.
Left Trunk of a cultivated tree Valencia (Spain) 07.2007, © E. Laguna; Right: Leaves. Pedreguer, Alicante (Spain) 03.2000, © E. Laguna
Distribution: Almost the Mediterranean-climate area, but not forming a continuous area and becoming more abundant in the Northern basin. Its true origin is unknown, and maybe was introduced from Eastern regions (Minor Asia, Caucasus, Himalayan area) in pre-Roman or Roman Age; however some recent paleobotanical findings suggests that this species should be considered as native for the Iberian peninsule.
Distribution map of Celtis australis*
*From BOLŇS, O. & J. VIGO (1984-2001), reproduced with the editor's permission.
Habitat: Deep rocky ravines and riverine areas, often near to sites where it was cultivated in the past. This species uses to form small groups, acting as dominant or co-dominant species (with Ulmus minor, Populus alba, etc.). Sometimes can be found as a rock-dwelling plant, forming part of the rupicolous vegetation near the rivers.
Variability: Few variable in size and aspect.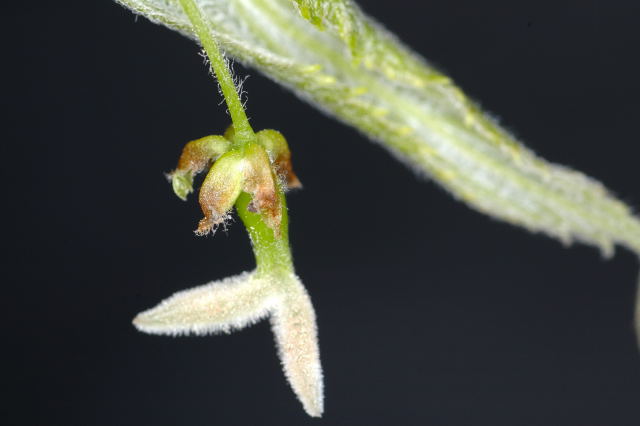 Flower of C. australis. Catarroja, Valencia (Spain), 03.2008 © E. Laguna
FILMED's selected populations: Algeria (1), Cyprus (2), France (5), Greece (3), Italy (4), Morocco (1),
Spain (23), Turkey (2).
References:
-BOLŇS, O. & J. VIGO (1984-2001). Flora dels Paďsos Catalans. 4 vols. Ed. Barcino. Barcelona.
-BURNIE, D. 1995. Wild flowers of the Mediterranean. 320 pp. Dorling Kindersley. London.
-CASTROVIEJO, S., coord. gral. (1986-2008): Flora Iberica. 14 vols. Real Jardín Botánico-CSIC. Madrid.
-DAVIES, P. & B. GIBBONS. 1993. Field guide to the Wild Flowers of Southern Europe. 320 pp. Crowood Press. Marlborough.
-POLUNIN, O. & A. HUXLEY. 1990. Flowers of the Mediterranean. 2nd ed. 272 pp. Chatto & Windus. London.
POLUNIN, O. & B.E. SMITHIES. 1997. Flowers of South-West Europe. 480 pp. Oxford University Press. Oxford.
-SCHÖNFELDER, I. & 9. SCHÖNFELDER. 1984. Collins photoguide to the wildflowers of the Mediterranean. Collins. London.
-TUTIN, T.G., V.H. HEYWOOD, N.A. BURGES, D.H. VALENTINE, S.M. WALTERS & D.A. WEBB. 1964-1980. Flora Europaea. 5 vols. Cambridge University Press. Cambridge.
-VEDEL, H. 1978. Trees and shrubs of the Mediterranean. Penguin. London.
Leaves and fruit of Celtis australis. Catarroja, Valencia (Spain) 11..2007 and 10.2008, © E. Laguna
Recommended webpages:
-Virtual Herbarium of the Western Mediterranean: http://herbarivirtual.uib.es/cas-med/index.html
-Flora Iberica: http://www.rjb.csic.es/floraiberica/index.php
-Anthos: http://www.anthos.es
-Mediterranean Wildflowers (pictures): http://www.florasilvestre.es/mediterranea/index.htm
-Spanish Wildflowers (pictures): http://www.hoseito.com/FLORES%20SILVESTRES/index.htm
Wikipedia: http://en.wikipedia.org/wiki/Celtis_australis