Shrubby and tree-like plants (left) and acorns (right) of Quercus coccifera. Requena (Valencia, Spain), 11.2007, © E. Laguna
Description: An evergreen, spiny-leaved tall shrub or tree up to 20-25 m, sometimes reduced to a resprouter, thicket-forming, rhizomatous shrub. Leaves coriaceous, ovate to round with spiny edges. Fruits in acorn, suronded at the base by a prickly cupped calyx. Diploid, 2n=24
Distribution: Almost the Mediterranean-climate area, but not forming a continuous area.
Distribution map of Quercus coccifera*
*From BOLÒS, O. & J. VIGO (1984-2001), reproduced with the editor's permission.
Habitat: Evergreen forests, maquis shrubland and spiny scrublands up to 1500-1800 m, on any kind of soils. It can appear as a dominant species.
Variability: Very variable in size and aspect of the whole plant, leaves and acorns. Western Mediterranean forms use to be shrubby (multi-trunk plants, up to 4-5 m tall), and most Eastern ones are trees with one or few well-defined tall trunks. Populations by the Eastern edge has been described as subsp. calliprinos (Webb) Holmboe (=Q. calliprinos Webb). In addition several subespecies often not accepted by most taxonomists have been proposed around the Mediterranean.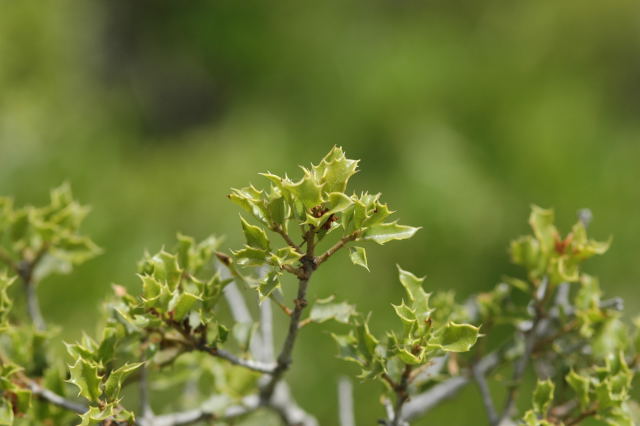 Branchelets and leaves of Q, coccifera var. coccifera. Llombai (Valencia, Spain), 05.2006, © E. Laguna
FILMED's selected populations: Q. coccifera s.s.: Argelia (4), France (4), Greece (5), Italy (2), Marocco (5), Portugal (2), Spain (32), Tunisia (1) and Turkey (5).
In addition the following populations apparently belonging to Q. coocifera subsp. calliprinos have been sampled: Cyprus (2), Israel (2), Italy (1) and Lybia (3)
Note: Western populations (Greece, Turkey) can include transitions between the two subespecies.
References:
-BOLÒS, O. & J. VIGO (1984-2001). Flora dels Països Catalans. 4 vols. Ed. Barcino. Barcelona.
-BURNIE, D. 1995. Wild flowers of the Mediterranean. 320 pp. Dorling Kindersley. London.
-CASTROVIEJO, S., coord. gral. (1986-2008): Flora Iberica. 14 vols. Real Jardín Botánico-CSIC. Madrid.
-DAVIES, P. & B. GIBBONS. 1993. Field guide to the Wild Flowers of Southern Europe. 320 pp. Crowood Press. Marlborough.
-POLUNIN, O. & A. HUXLEY. 1990. Flowers of the Mediterranean. 2nd ed. 272 pp. Chatto & Windus. London.
POLUNIN, O. & B.E. SMITHIES. 1997. Flowers of South-West Europe. 480 pp. Oxford University Press. Oxford.
-SCHÖNFELDER, I. & 9. SCHÖNFELDER. 1984. Collins photoguide to the wildflowers of the Mediterranean. Collins. London.
-TUTIN, T.G., V.H. HEYWOOD, N.A. BURGES, D.H. VALENTINE, S.M. WALTERS & D.A. WEBB. 1964-1980. Flora Europaea. 5 vols. Cambridge University Press. Cambridge.
-VEDEL, H. 1978. Trees and shrubs of the Mediterranean. Penguin. London.
Epigeous germination of an acorn in field. Llombai (Valencia, Spain), 11.2006, © E. Laguna
Recommended webpages:
-Virtual Herbarium of the Western Mediterranean: http://herbarivirtual.uib.es/cas-med/index.html
-Flora Iberica: http://www.rjb.csic.es/floraiberica/index.php
-Anthos: http://www.anthos.es
-Mediterranean Wildflowers (pictures): http://www.florasilvestre.es/mediterranea/index.htm
-Spanish Wildflowers (pictures): http://www.hoseito.com/FLORES%20SILVESTRES/index.htm
-Wikipedia: http://en.wikipedia.org/wiki/Quercus_coccifera
Cecidia produced by the insect Kermes ilicis on young leaves of the kermes oak, traditionally used in some Mediterranean countries to extract the kermes-red dye . Left: Buñol (Valencia, Spain), 04.2006; right: El Viso (Córdoba, Spain), 04.2007 © E. Laguna