Male flowering (left) and fruiting plants (right) of small-leaved Mediterranean buckthorn Rhamnus alaternus var. balearica. Buñol, 04.2006 (left) and Llombai, 05.2006 (right), both from the province of Valencia (Spain), © E. Laguna
Leaf of big-leaved Mediterranean buckthorn Rh. alaternus subsp. alaternus var. alaternus. Xàbia (Alicante, Spain), 06.2007 © E. Laguna
Description: An evergreen, dioecious tall shrub or small tree up to 7-8 m. Leathery leaves, ovate and often acute, 2-7 cm long, sometimes coriaceous, bearing toothed edges. Male flowers cup-shaped, without petals, growing in pendent clusters; female flowers pale yellow, with short petals, in erec clusters. Flowering period: January-April, sometimes also in early autumn. Mature fruits are sphaeric berries, red to black, holding 2-4 seeds. Diploid, 2n=24.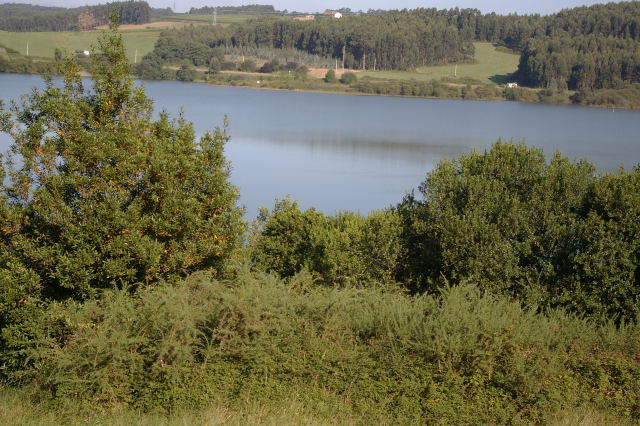 Tall thickects of Rhamnus alaternus var. alaternus and Laurus novocanariensis in La Granda, Avilés (Asturias, Spain), near the Atlantic coast, 08.2008, © E. Laguna
Distribution: Almost the Mediterranean-climate area -more common in the Western Mediterranean-, but not forming a continuous area.
Distribution map of Rhamnus alaternus*
*From BOLÒS, O. & J. VIGO (1984-2001), reproduced with the editor's permission.
Habitat: Maquis shrublands and evergreen forests up to 1200-1400 m, sometimes in the riverine vegetation -particularly near the Atlantic coasts-, best growing on limestones. Some varieties are rock-dwelling plants.
Rhamnus alaternus var. balearica, an erect shrub. Tavernes de la Valldigna (Valencia, Spain), 05.2007, © E. Laguna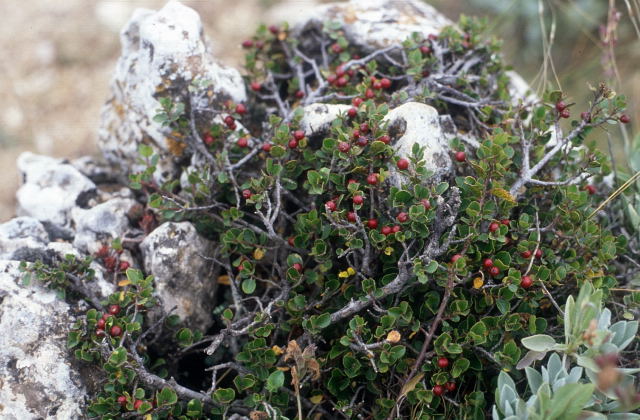 Rhamnus alaternus var. prostrata, a rupicolous dwarf shrub. Agres (Alicante, Spain), 05.2007, © E. Laguna
Variability: Very variable in size and aspect of the whole plant. The most recognized forms are subsp. alaternus -a medium-size tree with big, bearing leathery leaves, and fruits in slack clusters-, subsp. pendulus (Pamp.) Jafri -pendent branches, leaves with a narrow withe edge; endemic to Lybia-, and subsp. myrtifolius (Willk.) Maire [=Rh. myrtifolius Willk.] -rupicolous, small-leaf plants-. Southern Spanish populations use to have very small, coriaceous leaves, living both on maquis -var. balearica- and rocks -var. prostrata, very close to subsp. myrtifolius-. Rhamnus ludovici-salvatoris is a close species endemic to the Balearic Islands (Spain).
FILMED's selected populations: Argelia (3*), Cyprus (1), France (3), Greece (5), Israel (1), Italy (5), Lybia (2*), Portugal (2), Spain (20), Tunisia (1).
Additionally the following populations have been sampled: Rh. alaternus subsp. myrtifolius: Argelia (1); Rh. ludovici-salvatori: Spain (1)
*These populations could belong to subsp. pendulus
Fruit shape and colour variability in Spanish forms of Rh. alaternus var. alaternus (long leaved buckthorn). Left.: Obovate unripe fruits, Ciutadella, Minorca (Balearic Islands), 04.2007; Centre: Black, round, ripe fruits. La Granda (Asturias), 08.2008; Right: Rare yellow, round ripe fruits. Xàbia (Alicante, Valencian Community), 06.2007, © E. Laguna
References:
-BOLÒS, O. & J. VIGO (1984-2001). Flora dels Països Catalans. 4 vols. Ed. Barcino. Barcelona.
-BURNIE, D. 1995. Wild flowers of the Mediterranean. 320 pp. Dorling Kindersley. London.
-DAVIES, P. & B. GIBBONS. 1993. Field guide to the Wild Flowers of Southern Europe. 320 pp. Crowood Press. Marlborough.
-POLUNIN, O. & A. HUXLEY. 1990. Flowers of the Mediterranean. 2nd ed. 272 pp. Chatto & Windus. London.
POLUNIN, O. & B.E. SMITHIES. 1997. Flowers of South-West Europe. 480 pp. Oxford University Press. Oxford.
-SCHÖNFELDER, I. & 9. SCHÖNFELDER. 1984. Collins photoguide to the wildflowers of the Mediterranean. Collins. London.
-TUTIN, T.G., V.H. HEYWOOD, N.A. BURGES, D.H. VALENTINE, S.M. WALTERS & D.A. WEBB. 1964-1980. Flora Europaea. 5 vols. Cambridge University Press. Cambridge.
-VEDEL, H. 1978. Trees and shrubs of the Mediterranean. Penguin. London.
Recommended webpages:
-Virtual Herbarium of the Western Mediterranean: http://herbarivirtual.uib.es/cas-med/index.html
-Flora Iberica: http://www.rjb.csic.es/floraiberica/index.php
-Anthos: http://www.anthos.es
-Mediterranean Wildflowers (pictures): http://www.florasilvestre.es/mediterranea/index.htm
-Spanish Wildflowers (pictures): http://www.hoseito.com/FLORES%20SILVESTRES/index.htm