Horizon 2020 (H2020) is the main EU's programme for funding research in Europe during the period 2014-2020.
Participating in H2020 will offer you the opportunity to find additional funding for your project, and to share knowledge and experience with the members of your consortium.
Horizon Europe is the next EU framework programme for research and innovation for the period 2021-2027.
Horizon Europe Preliminary Structure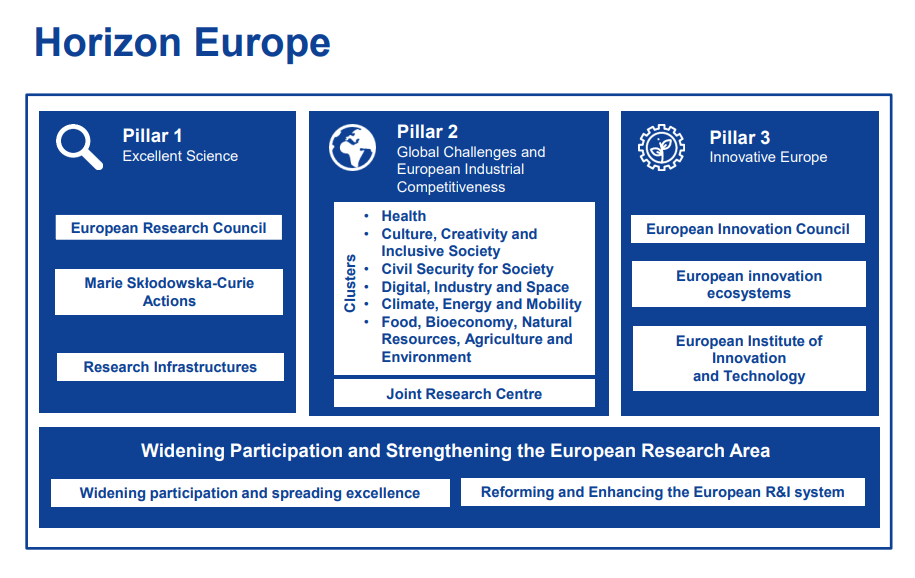 Missions in Horizon Europe
European Partnerships in Horizon Europe
Horizon 2020 PROA-H2020-UV
The Universitat de València obtained a grant with code ECT-2017-0277 and entitled Programme for promotion and support of H2020 projects at Universitat de València (PROA-H2020-UV), an initiative funded with 250.000 euros by the Spanish Ministry for Science, Innovation and Universities under the call European Networks and Managers – Technological Centres 2017 of the National Programme for Promoting S&T Research 2013-2016. The aim is to reinforce UV's International R&D and Innovation Unit as a structure of support for the university community, with a view to increase the economic return from Horizon 2020 by means of a larger participation of UV's researchers and a better success rate of the projects submitted.
Horizon 2020 Structure
The European Commission has a dedicated website, Horizon 2020, with all the necessary information on this programme.
Funding and Tender Opportunities is the European Commission's website where all H2020 calls for proposals are published.
Horizon 2020 is executed via work programmes. They are available for download on Funding and Tender Opportunities website.
CORDIS website contains detailed information on the projects that received funding from the successive European framework programmes.
HORIZON 2020
I - EXCELLENT SCIENCE
1.- European Research Council
2.- Future and Emerging Technologies (FET)
3.- Marie Sklodowska-Curie Actions
4.- Research Infrastructures
II - INDUSTRIAL LEADERSHIP
1.- Leadership in Enabling and Industrial Technologies
Information and Communication Technologies
Nanotechnologies
Advanced Materials
Biotechnology
Advanced Manufacturing and Processing
Space
2.- Acces to risk financing
3.- Innovation in SMEs
III - SOCIETAL CHALLENGES
1.- Health, demographic change and wellbeing
2.- Food security, sustainable agriculture, marine and maritime research and the Bio-economy
3.- Secure, clean and efficient energy
4.- Smart, green and integrated transport
5.- Climate action, environment, resource efficiency and raw materials
6.- Europe in a changing world: Inlcusive, innovative and reflective societies
7.- Secure societies: Protecting freedom and security of Europe and its citizens