Leaves and fruits of P. lentiscus. Left.: Gilet (Valencia, Spain), 10.2005; Right.: Traiguera (Castellón, Spain), 09.2006 © E. Laguna
Description: A dioecious evergreen tall, scented shrub or low tree up to 4-5 m. Equally pinnate leaves with winged petioles. Flowering time: February-June. Flowers small (ca. 3 mm), yellow-green (female) to red (male), qrowing in clusters on the leaf axils. The fruits are small, rounded berries, bearing 1 seed. All their parts produce a scented resin, used in Western Mediterranean to produce the mastic gum. Diploid, 2n=24.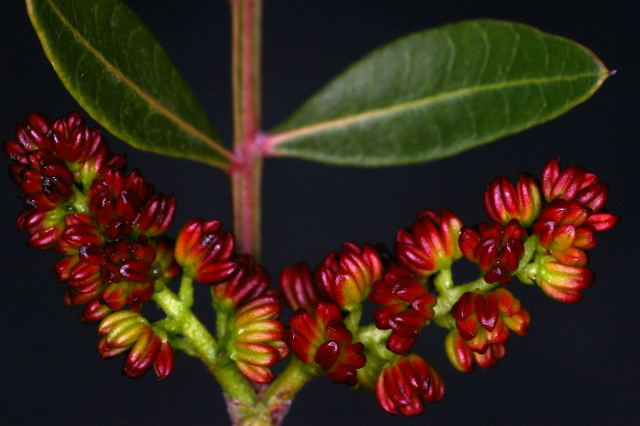 Male infloresecences. El Viso (Córdoba, Spain), 04.2007 © E. Laguna
Distribution: Almost the Mediterranean-climate area.
Distribution map of Pistacia lentiscus*
*From BOLŇS, O. & J. VIGO (1984-2001), reproduced with the editor's permission.
Habitat: Maquis shrublands and evergreen forests in coastal or warm sites, up to 700-800(-1000) m. Rare on the Northernmost sites, as well as in the most arid areas.
P. lentiscus shrublands at Lixus (Larache, Marocco), 05.2007 © E. Laguna
Variability: Few variable in size and aspect. No significant varieties or subspecies have been described. Close species -some of them yielding hibrid taxa- are P. atlantica, P. terebinthus, P. palaestina, P. vera.
FILMED's selected populations: Argelia (5), Cyprus (1), France (6), Greece (6), Israel (1), Italy (6), Lybia (3), Marocco (7), Portugal (2), Spain (24), Tunisia (2), Turkey (4).
Additionally some populations of close species have been sampled: Pistacia palaestina -Cyprus (2)-, P. terebinthus -Greece (1) and Spain (1)- and Rhus tripartitus -Argelia (3)-.
References:
-BOLŇS, O. & J. VIGO (1984-2001). Flora dels Paďsos Catalans. 4 vols. Ed. Barcino. Barcelona.
-BURNIE, D. 1995. Wild flowers of the Mediterranean. 320 pp. Dorling Kindersley. London.
-DAVIES, P. & B. GIBBONS. 1993. Field guide to the Wild Flowers of Southern Europe. 320 pp. Crowood Press. Marlborough.
-POLUNIN, O. & A. HUXLEY. 1990. Flowers of the Mediterranean. 2nd ed. 272 pp. Chatto & Windus. London.
POLUNIN, O. & B.E. SMITHIES. 1997. Flowers of South-West Europe. 480 pp. Oxford University Press. Oxford.
-SCHÖNFELDER, I. & 9. SCHÖNFELDER. 1984. Collins photoguide to the wildflowers of the Mediterranean. Collins. London.
-TUTIN, T.G., V.H. HEYWOOD, N.A. BURGES, D.H. VALENTINE, S.M. WALTERS & D.A. WEBB. 1964-1980. Flora Europaea. 5 vols. Cambridge University Press. Cambridge.
-VEDEL, H. 1978. Trees and shrubs of the Mediterranean. Penguin. London.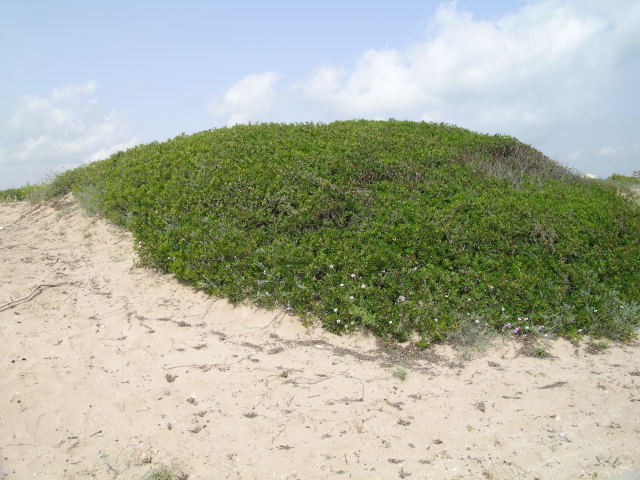 Shrub specimen of P. lentiscus on the coastal dunes of Devesa del Saler, Valencia (Spain). 06.2006 © E. Laguna
Recommended webpages:
-Virtual Herbarium of the Western Mediterranean: http://herbarivirtual.uib.es/cas-med/index.html
-Flora Iberica: http://www.rjb.csic.es/floraiberica/index.php
-Anthos: http://www.anthos.es
-Mediterranean Wildflowers (pictures): http://www.florasilvestre.es/mediterranea/index.htm
-Spanish Wildflowers (pictures): http://www.hoseito.com/FLORES%20SILVESTRES/index.htm
-Wikipedia: http://en.wikipedia.org/wiki/Pistacia_lentiscus
Maquis of P. lentiscus and Olea sylvestris at Ciutadella, Menorca (Balearic Islands, Spain), 02.2006 © E. Laguna