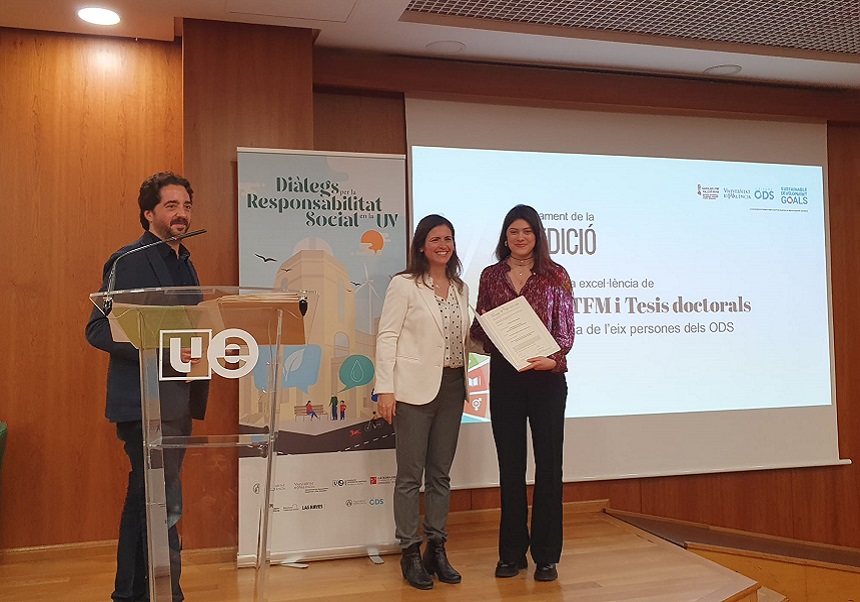 Sergio Belda i Pilar Serra entregant un dels premis a l'alumnat.
La Càtedra de Cooperació i Desenvolupament Sostenible de la UV va celebrar dijous passat 23 de març la tercera edició dels premis a treballs finals de l'alumnat vinculats a l'eix persones de l'Agenda 2030 i les seues ODS. L'esdeveniment, desenvolupat al costat dels I els Diàlegs per la Responsabilitat Social en la UV que organitzava el Vicerectorat de Sosteniblidad, Cooperació i Vida Saludable, va comptar amb la presència de diversos ponents relacionats amb la promoció de la sostenibilitat i responsabilitat social en les universitats.
En aquest marc reflexiu entorn de com les universitats exerceixen i poden continuar exercint la seua capacitat d'acció en la generació de processos de canvi transformador, l'adreça de la Càtedra, Sergio Belda Miquel i Carmen Lloret Català, al costat de la Vicerectora Pilar Serra Añó van fer lliurament dels premis als millors treballs fi de grau, fi de màster i tesis vinculats a l'eix persona de l'Agenda 2030 i els ODS.
En el discurs de lliurament, la Càtedra va agrair a l'alumnat el seu gran esforç i va constrényer a la comunitat universitària a continuar impulsant accions cogestionades per a generar aprenentatge en clau de sostenibilitat i promoure acció col·lectiva. Les persones premiades van ser:
Treball de Fi de Grau (TFG)
Modalitat Arts i Humanitats: Julia León Hermosilla, per "Developing intercultural competence through travel literature in the English studies degree".
Modalitat Ciències Socials i Jurídiques: Carmen García Lacruz, per "Key social sustainability challenges in the food industry".
Modalitat Ciències, Ciències de la Salut, Arquitectura i Enginyeria: Raquel Peñalba Pérez, per "Utilización de residuos cítricos en el desarrollo de productos de panadería".
Treball de Fi de Màster (TFM)
Modalitat Ciències Socials i Jurídiques: Jenny Alexandra Ocampo Castaño, per "La protección internacional en los casos de desplazamientos forzados externos en España: los impactos diferenciales en la vida de las mujeres exiliadas y refugiadas políticas colombianas" i Marcela Nogueira Martíns per "Patentes farmacéuticas: entre la propiedad intelectual y la salud pública en Brasil e India''.
Modalitat Ciències, Ciències de la Salut, Arquitectura i Enginyeria: Paula Rodrigo Martínez, per "Optical chemodosimeters based on bodipy structure for cathinone and benzodiazepine detection".
Tesi Doctoral