Welcome to my personal site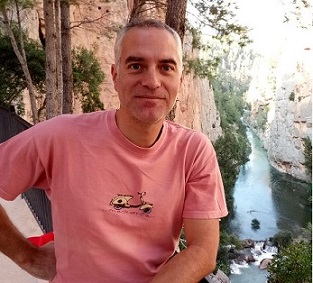 I am an international economist who genuinely believes in rigorous applied social science research aimed to improve our world. I enjoy pursuing theoretically-founded empirical research to address policy-relevant questions. Most of my efforts aim to build applied models of interconnected cross-border flows (e.g., FDI, trade, migration) and estimate policy changes and shocks. However, I am a staunch advocate of interweaving with related disciplines (business and management) and a broader audience (policy-makers and students). Therefore, I delve into several other topics like social media, business ethics, financial sustainability, and corporate governance, which I find relevant and appealing. Moreover, these topics often provide new insights and fresh ideas that reinforce my economics research.
What do I do?
I'm Jordi Paniagua, Assistant Professor of Economics at the University of Valencia, Department of Applied Economics II since September 2017. I'm also a research associate at the
Institute of International Economics
at the University Jaume I of Castellón and research fellow
Chair of Energy Sustainability
at the University of Barcelona. I also lecture at the National Distance Education University (
UNED
).
I made the youth mistake of studying telecommunications engineering (MsC) at the (UPV) but redeemed myself by studying economics at night while engineering networks in Nuremberg and Barcelona. I then pursued a Ph.D. in Economics while being the head of research at the Investment Promotion Agency of the Valencia Region.

My research interests are varied and span between international economics and business. My teaching subjects have been [too!] many including integration economics and econometrics.
My most recent research gravitates around gravity models of foreign direct investment (FDI), trade, migration, energy, tourism and their interplay with trade law, economic integration, financial crises, well-being, social media, social entrepreneurship, innovation, and also other forces in the research universe like finance, corporate governance, and creativity among others.
Please check out my
personal research statement
.
I am currently an academic editor at PLoS ONE and the Central European Management Journal.
Selected Papers
Economics
---
---
"Does International Commercial Arbitration Promote Foreign Direct Investment?" with Myburgh, A.
The Journal of Law and Economics (2016), 59(3), 597-627. [DOI] [PDF] [Online Appendix] [Slides]
[Cited by: Asian Development Bank for Fiji's and Papua New Guinea accession to the NY Convention][Media coverage: Agenda Pública (El País) The National (PNG) Pacific Islands News Association (Fiji)]
[The line: Private dispute resolution through international commercial arbitration reduces investment costs and promotes FDI]
"Is energy market integration a green light for FDI?" with Costa-Campi, M.T. & Trujillo, E.
Energy Journal (2018), 39, 39-56. [DOI] [PDF] [Slides]
[Media coverage: None]
[The line: Energy market integration reduces energy input prices and increases FDI flows.]
"Sovereign debt spreads in EMU: The time-varying role of fundamentals and market distrust" with Sapena, J., & Tamarit, C..
Journal of Financial Stability (2017), 33, 187–206. [DOI] [PDF] [Slides] [Dataset]
[Media coverage: None]
[The line: Market sentiments amplify (or reduce) the relative importance of soverign spread time-varying determinants]

Business
---
---
"Business Performance and Social Media: Love or Hate?" with Sapena, J.
Business Horizons (2014), 57(6), 719-728. [DOI] [PDF] [Prezi] [Dataset]
[Best paper award] [Cited in: Wikipedia] [Media coverage: Valencia Plaza, Sintetia]
[The line: Facebook and Twitter followers have an effect on firm's financial performance]
"Is FDI doing good? A golden rule for FDI ethics" with Sapena, J.
Journal of Business Research (2014), 67(5), 807–812. [DOI] [PDF] [Prezi]
[Best paper award][Media coverage: None]
[The line: "Therefore whatever you desire for men to do to you, you shall also do to them" (Matthew 7:12)]
"Crossing borders with social media: Online social networks and FDI" with Korzynski, P., & Mas-Tur, A.
European Management Journal, 35(3), 314-326. [DOI] [PDF] [Prezi]
[Media coverage: None]
[The line: Facebook and Twitter followers anticipate foreign demand and have an effect on FDI]