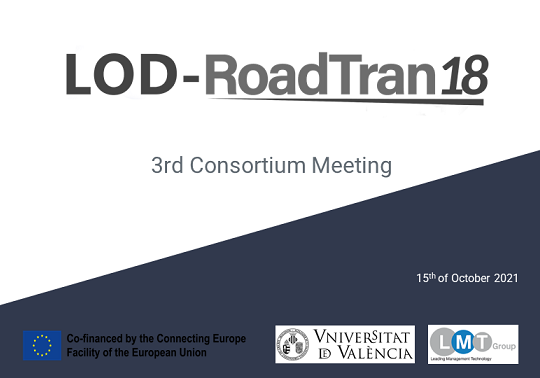 The members of the LOD-RoadTran18 project held the third consortium meeting on Friday, when it was reviewed the status of the initiative and the next steps to be taken. In addition, several of the beneficiaries gave a technical overview of the implementation being carried out in Spain and the Czech Republic.
LOD-RoadTran18 is an action co-funded by HaDEA and coordinated by the University of Valencia with the technical assistance of LMT Group. It aims to support the reuse of dynamic road traffic data in the Czech Republic and Spain, to make the European data portal FAIR (findable, accessible, interoperable and reusable) and to connect it with any other data in the sector using LOD.
In this sense, the meeting reviewed the milestones achieved and emphasised the distribution of the tasks to be carried out in the coming year. In addition, issues concerning the implementation in Spain, the Czech Republic and the work carried out by the Universitat Politècnica de València and Desidedatum were discussed.
The LOD-RoadTran18 consortium is composed of IRTIC, LMT Group, Directorate-General of Traffic, Desidedatum Data Company S.L., ESAM Tecnología S.L., Universitat Politècnica de València, TamTam Research and the Czech Technical University.
Official website: http://cef.uv.es/lodroadtran18
INEA's, now HaDEA's, website: https://ec.europa.eu/inea/en/connecting-europe-facility/cef-telecom/2018-eu-ia-0088
Start of the project: 01/09/2019
Conclusion of the project: 30/09/2022
Agreement No.: INEA/CEF/ICT/A2018/1803421
Action No.: 2018-EU-IA-0088
The contents of this publication are the sole responsibility of IRTIC (UV) and do not necessarily reflect the opinion of the European Union.