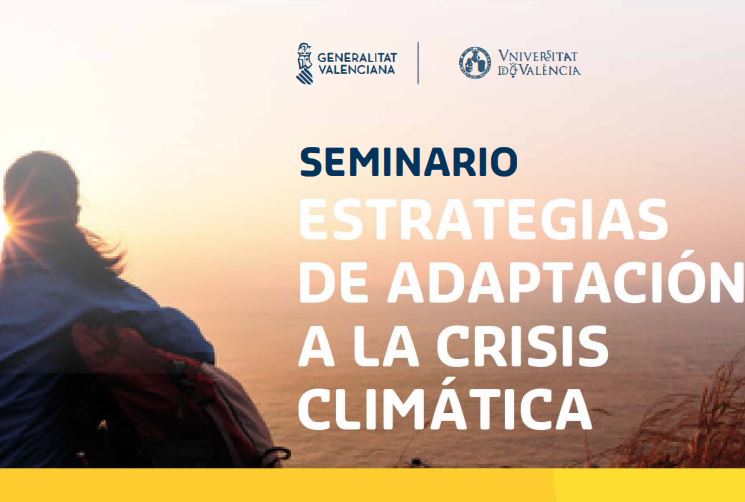 On Thursday (9:00 am),the president of the Generalitat, Ximo Puig, and the principal of Universitat de València, Mavi Mestre, will open the workshop "Estratègies d'adaptació a la crisi climàtica", that is organised by Inter-university Institute for Local Development (IIDL), Càtedra Prospect 2030 and the Department of Geography.
The workshop will take place in the Jardí Botànic of the Universitat de València and will be coordinated by Jorge Olcina, Professor of Geography at University of Alacant and president of Spanish Geographers Association. "Nowadays, the climate change is the biggest challenge that we face due to its complexity and rapid development and the many factors that have an effect on it", explains Olcina. Many Governments, which aim at the fulfilment of the international Paris Agreement and the avoidance of temperature rises more than 1,5⁰C, have made deals such as Pacto de las Alcaldías por el Clima y la Energía or have signed the Climate Emergency declaration. After these commitments, Olcina says "this is the moment to take action and make concrete arrangements". About the workshop, he says that "try to give solutions and means for the people who takes decisions because once we know the diagnosis, we could set an strategy in the medium and long-term in order to relieve and adapt us to the climate change effect".
The creation of Càtedra ProspectCV 2030, which was supported by the Generalitat Valenciana Presidency and attached to IIDL of Universitat de València, was made with the purpose of "knowing better the origin of the ongoing processes in specific thematic essential fields, having as much knowledge as possible about the effects of these, knowing how will it be handled these consequences by the use of comparative analysis and knowing also success stories, especially in regional and local level, whose verified information could be available to public and private actors", explains its director, the Professor Joan Romero. He also adds: "to help remind them the desired setting in the medium term. In order to achieve this goal, Càtedra suggest creating a permanent and dynamic database and a continuous observatory based in success stories in regional and local level".
The IIDL is a research centre on the theory and practice of local development in its broadest sense. It is established by researchers of the Universitat Jaume I and Universitat de València, experts in the various dimensions of the concept of sustainable development, policy implementation framework and strategies at the local level.
Links: