Web platform Kentico have released their 2016 Digital Agencies Survey. Despite a predicted increase in technological investments, a larger workforce is the preferred expenditure for the average agency in 2016
Digital marketing agencies seem to be answering the age-old conundrum of how to balance technological innovation with an increasing workforce. At least that's one of the conclusions that can be extracted from Kentico's latest survey on Digital Agencies, entitled "Are You on Track or Are You Lagging Behind?".
Partnered with renowned marketing research and consultancy agency Millward Brown, Kentico Software, provider of an "all-in-one CMS, E-commerce, and Online Marketing platform", surveyed a random sample of 300 senior managers and directors of digital agencies in several countries across three continents (UK, USA, Australia/New Zealand, Benelux and the Czech Republic) on the plans they have for their firms this year 2016.
The most striking result is that on average the leaders of these firms will trust their growth this year more on hiring new people than on any other type of investment. 81% of the consulted managers had plans to increase their workforce (including 90% of the most-profitable agencies), with 91% of them confident it would lead to increasingly efficient work in their respective agencies.
In comparison, 71% will invest more money in software this year, 63% plan to turn their investments to hardware, and little more than half will use the opportunity to outsource a larger part of their workload. Of those who answered affirmatively, 89%, 86% and 82%, respectively, expected it to lead to an increase in efficiency.

The survey also leads to some other interesting conclusions. There is a lesser consensus amongst digital agency managers about which are the most preferable solutions for their clients. Only Web and Mobile Analytics (58%), Web Content Management Platforms (58%) and Social Media Marketing (50%) were amongst the most recommended by more than half the agencies. Lowest in demand are Personalisation Software (20%), Lead Scoring (23%) and Optimisation Tools (32%).
As for what these agencies are mainly worried about? Surprisingly, Competition (80%) only rates very slightly above the clients themselves, with non-digital marketing savvy clients (78%), 'stingy' clients (78%) or 'stagnant' clients (73%) amongst the most worrisome. In particular, as seen below, this applies for less profitable agencies.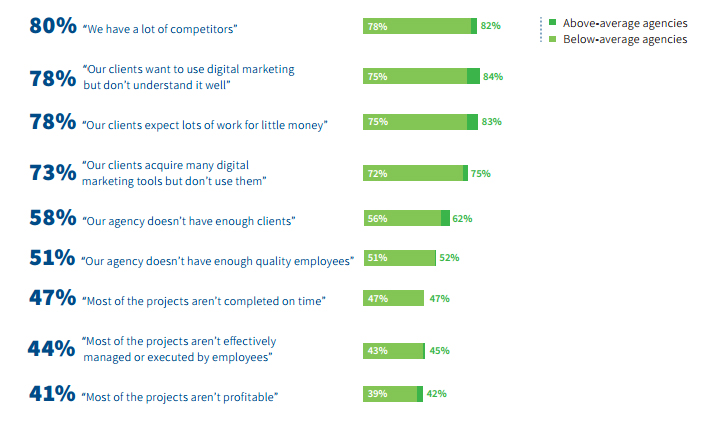 The price for a project is one of the most varying indicators. An agency from Australia/New Zealand charges on average $190.000, while a Czech project costs on average $29,000. Above-average agencies, logically, charge more for their services: just over double the price ($135,000 to $65,000). Still, 3 out of 4 managers consider all their projects to be profitable.
The full report can be read here.