The ERI Reading of the University shows that reading on paper is more effective than on digital devices
23/10/18
A study led by the Interdisciplinary Research Structure for Reading research (ERI Reading) of the University of Valencia has shown the so-called "paper superiority effect": people understand better the same text if they read it on paper than if they read it in digital format (for example, on tablets or computers). These conclusions are a novelty in the scientific literature to the extent that the introduction of new technological means in schools is nowadays more frequent.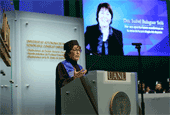 La professora Isabel Balaguer Solá nomenada Dra. Honoris Causa per la Universitat Autònoma de Nou León (México)
16/11/16
En sessió solemne de l'H. Consell Universitari del passat 14 de setembre, la Universitat Autònoma de Nou León (UANL) va lliurar a la Professora Isabel Balaguer Solá la distinció acadèmica de Doctora Honoris causa per les seues aportacions acadèmiques en la branca de la psicologia de l'esport. Des de fa una dècada, la professora Isabel Balaguer enforteix la vinculació educativa i científica entre la UANL i la Universitat de València.
Convocatòria Cursos d'Anglès i Valencià 2016-2017
13/07/16
Convocatòria de Cursos d'Anglès i Valencià para estudiants de Grau i Postgrau curs 2016-2017.
New website Undergraduate Degrees portal
11/05/15
The coordination of the undergraduate degrees has revamped its website to adapt it to the new content management system and improve its interface and accessibility, as has already been done on the corporate website of UV.
Vídeo institucional de la Universitat de València en el qual es mostra una visió actual de la institució, els seus serveis, les instal·lacions docents i d'investigació i activitats i espais oberts a la societat.