The official Master's Degree in History of Art and Visual Culture (UV-UJI) is inserted in the European Higher Education Area with FAIR 2019 RE-ACCREDITATION OF QUALITY BY THE AVAP (Agència Valenciana d'Avaluació i Prospectiva).
IT STARTS ITS 14TH EDITION (COURSE 2022-2023) ON SEPTEMBER 27, 2022.
THE OPENING CONFERENCE WILL BE GIVEN BY ÓSCAR J. MARTÍNEZ, PROFESSOR AT THE VALENCIA SCHOOL OF ART AND SUPERIOR DESIGN. TUESDAY, SEPTEMBER 27, 2022, 6:00 PM.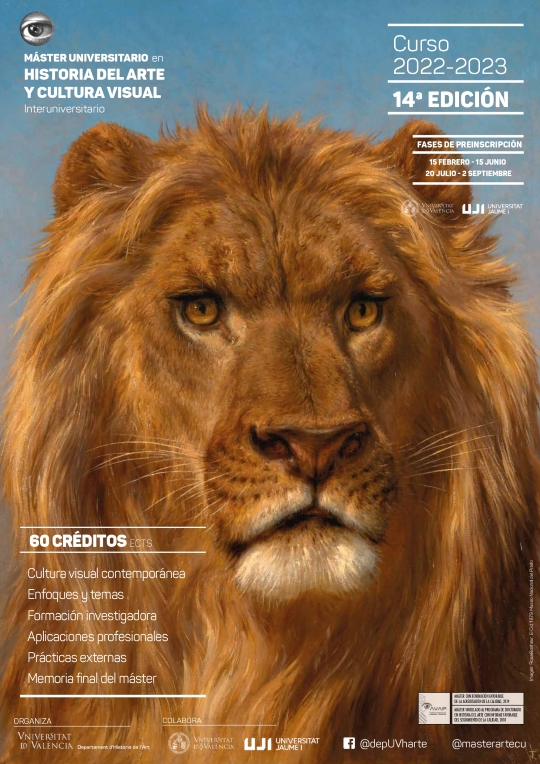 In the Master's own website you can find all the information.
Remember that there are 25 limited places, with priority in the first phase, and that it can be formalized, conditionally, through ENTREU without having fully completed the Degree. You have many more details on their private website and in the informational flyer prepared to announce this upcoming course.
Official inaugural act of the master 2022-2023. Tuesday, Sep 27, 2022 at 6:00 p.m.
It is an official public master's degree that provides an advanced university education in the field of visual arts through academic specialization in the analysis of artistic production and its processes of creation and reception through time and diverse cultures.
Pre-enrolment calendar for the 2022-2023 Master's programme. The Call for application will be opened. Period I: From 15 February (0.00 h) to 15 June (midnight) (local time) Extraordinary Phase From 20 July (14:00 h) to 2 September (midnight)(local time)
In the Master's own website you can find all the information about the timing and conditions of registration, schedules, dissertation work, etc.
Links: