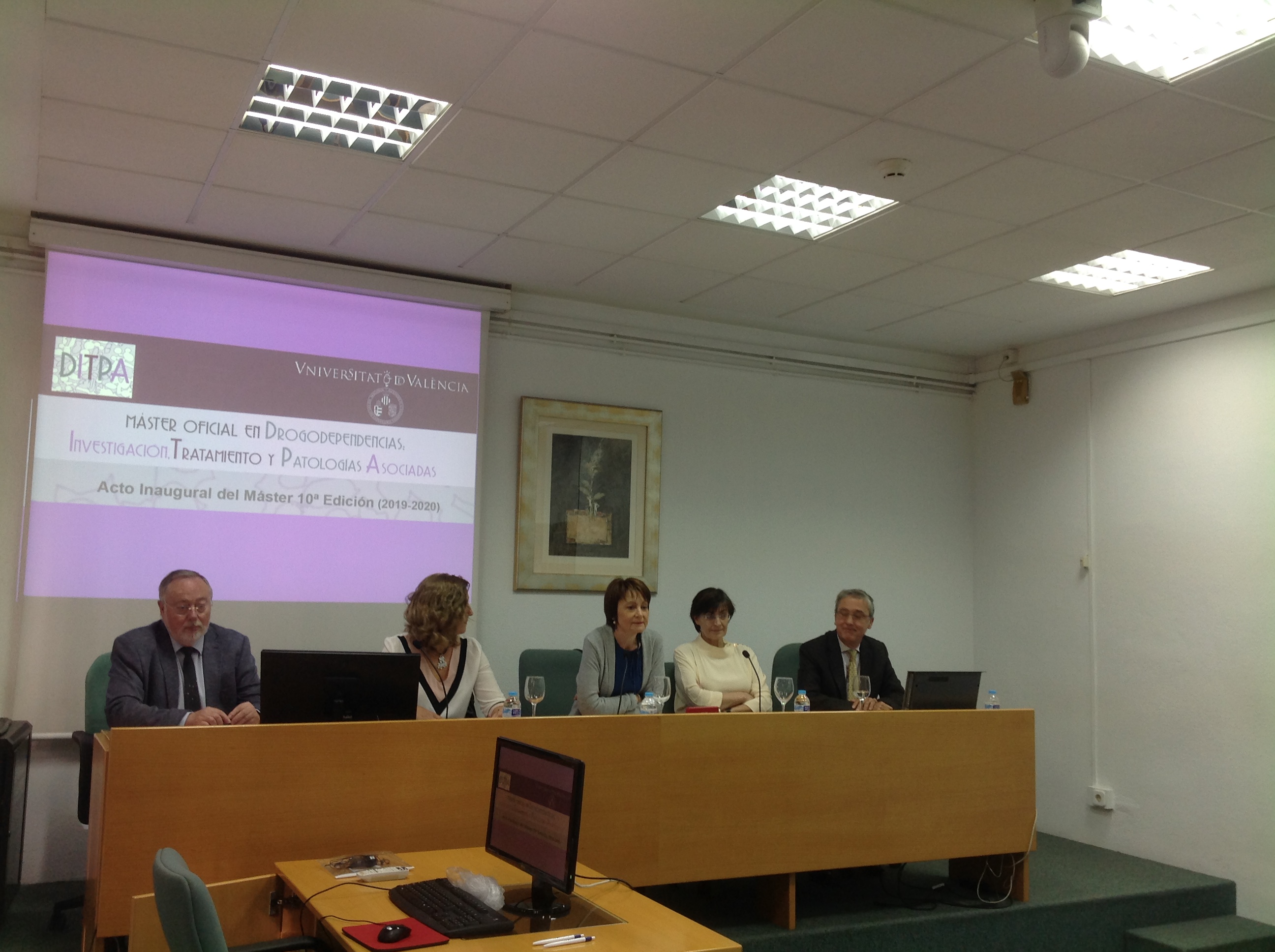 It was presented by Mrs. Mª Vicenta Mestre Escrivà Rector (Principal) of the Universitat de València. Ofelia Gimeno Forner. Director of Public Health and Addictions. The Valencian government (Generalitat Valenciana) Mrs. María Dolores Sancerni Beitia. Dean of the Faculty of Psychology. Universitat de València Don Francisco Pascual Pastor. President of the scientific society SOCIDROGALCOHOL, Medical Coordinator at the UCA of ALCOI, Adviser of CAARFE and Mr. José Miñarro López. Director of the Department of Psychobiology Universitat de València Master's Degree Director
Participants expressed satisfaction at reaching the tenth edition. They highlighted the illusion on their work and the effort that year after year is being made. The master has positioned itself in one of the first positions in the training of professionals prepared to act in the area of drug addiction, being the only one with face-to-face attendance and with a two year teaching.
The importance of the research and applied profile presented by graduated students was highlighted, which allows their rapid integration into the work and professional world.
The support of public and private institutions that collaborate year after year and allow many of the training activities offered by the Master's Degree: conferences, congresses, seminars, practices, etc. was appreciated. Along with this, rigorous and high quality training is maintained by the training of the teaching staff and the efforts of their students. Among all, in these ten years, we have managed to maintain the number of students, increase the number of collaborating centres, teachers and fulfil the objective of having the best professionals in the field to which we are dedicated.
They unanimously transmitted the success of the students in the choice they had made for their training and specialization, wishing them a happy career path throughout their lives.
Links: