The ECB's latest Survey on the Access to Finance of Enterprises in the euro area confirms that the attracting consumers is concerning European SMEs more than ever, while worries about finance availability hit record low.
Money is cheap… But who's buying? While the European Central Bank's (ECB) Quantitative Easing programme and steadier current financial situations across the continent are loosening up lending from both central and private banks, it remains unclear if that is motivating stagnant customers. For SMEs, it is becoming an increasingly major concern.
According to the ECB's latest Survey on the Access to Finance of Enterprises in the Euro Area, compiled every six months, 27% of European SMEs declared "Finding Customers" to be their main problem at this time, up from 25% in the survey before. In particular, around a third of German and Spanish SMEs expressed concerns over this issue.
This comes in sharp contrast with the number of euro area businesses struggling to find financing, which is still on a downward trend from late 2011's maximum. Only 10% of respondents found this to be their main problem. This is particularly significant in Spain, where the rate has been reduced by two thirds in four years. When asked whether access to finance was problematic, more euro SMEs rated it as of low importance. The exception to both trends is Greece, where more than 3 out of 10 surveyed SMEs still had access to finance as their main concern.
One other trend found through the survey is an increasing lack of qualified workers. "Availability of skilled staff or experienced managers" has become significantly problematic for 17% of Euro Area SMEs, with German and Slovakian enterprises in particular suffering (26% and 28%, respectively).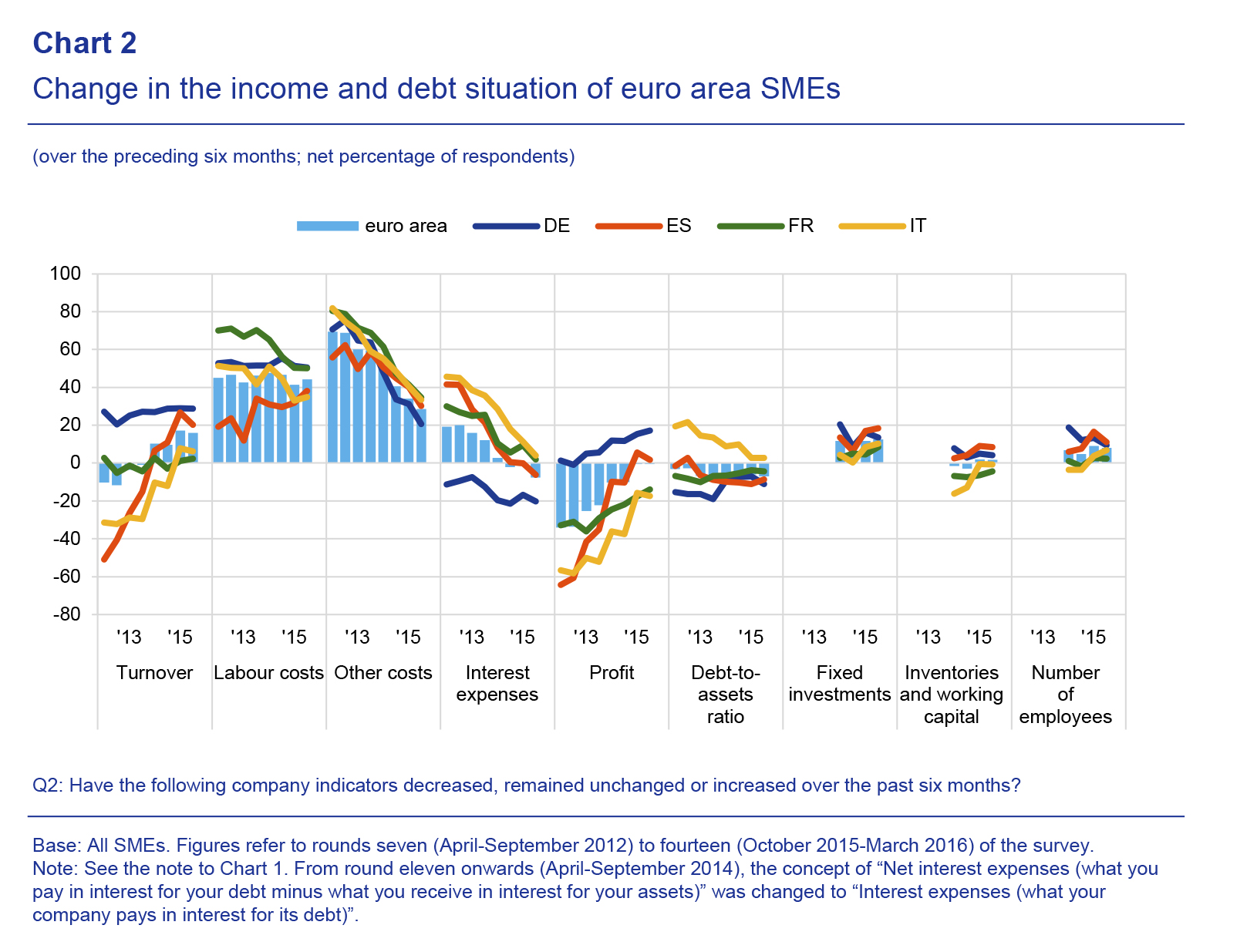 The survey, which was conducted between March 10 and April 21 2016 on 10,709 euro area SMEs (as well as 1,016 firms with over 250 employees), leaves some other interesting results. For the first time since the study has been done, more firms reported an increase in their inventories and working capital than the opposite (+2%). Only micro firms remain in negative territory. Also interesting is that for a second period profits remained close to zero (i.e.: firms reporting profits or losses were virtually the same), after several years of negative double-figure margins. A source for optimism, yet a slower increases this term in turnover and number of employees should be a signal for caution.
Other sentiments surveyed by the ECB include the change in external finance needs for SMEs, the success rate of bank loan applications, and optimism (or lack thereof) for future availability of financing sources. The full survey, with previous results included, can be found here.