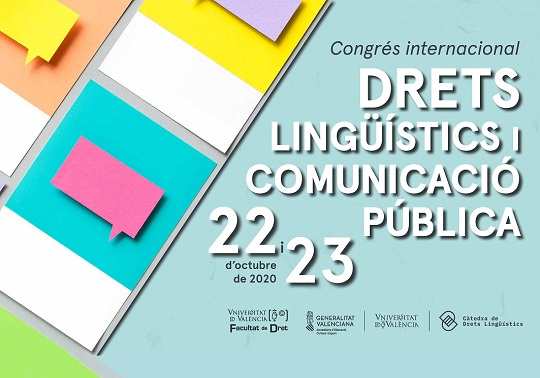 On October 22nd and 23rd 2020, the International Congress of Linguistic Rights and Public Communication took place. It was organised by the Universitat de València's Chair for Linguistic Rights, in collaboration with the Faculty of Law.
After the inauguration in charge of Director-general of the Language Policy Service and Multilingualism Management Rubén Trenzano Juan, Dean of the Faculty of Law Francisco Javier Palao Gil, Director of the Chair for Linguistic Rights Vicenta Tasa and Congress Co-director José María Vida, the European, state and regional legal frameworks regarding the use of minority and co-official languages in public communication were addressed and analysed. In the course of four sessions distributed between the afternoon of the 22nd and the morning of the 23rd of October, international experts, scholars and professionals gave an answer to the issue of linguistic rights and public communication.
Due to the health situation, the congress was carried out online via the Blackboard Collaborate platform.
Images: