Oberta inscripció al Congrés Internacional Ordre, Seguretat i Justícia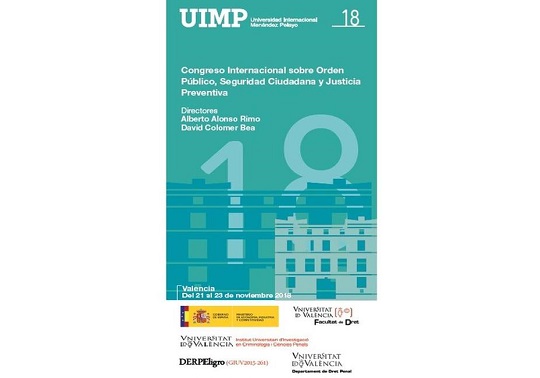 Schedule: From 8 june 2018 to 19 november 2018. Monday, tuesday, wednesday, thursday, friday, saturday and sunday at 00:00 to 00:00.
Place: http://www.uimp.es/congreso-orden-publico-y-justicia-preventiva.html
Description:
Congrés Internacional sobre Ordre Públic, Seguretat Ciutadana i Justícia Preventiva. 20, 21 i 22 de Novembre de 2018
Palau de Pineda
Plaça del Carme, 4
46003 València
L'objectiu del congrés, que se celebra en el marc del Projecte R+D+I "Tutela de l'ordre públic i justícia penal preventiva" (*DER2016-77-947-R, *AEI/*FEDER, UE)*, és subratllar els aspectes més conflictius d'aquest nou escenari normatiu, comparant algunes de les seues solucions amb les quals es preveuen en les legislacions del nostre entorn, i, sobre aqueixa base, reflexionar i debatre, des d'una perspectiva jurídica multidisciplinària i a partir d'un enfocament teòric-pràctic, sobre el paper que exerceixen els conceptes d'ordre públic i de seguretat ciutadana en la societat actual i, en general, sobre els límits que han de regir enfront de la funció preventiva de l'activitat punitiva estatal.
Per a tal comesa comptem amb la presència d'investigadors de reconegut prestigi de diverses universitats espanyoles i estrangeres, autoritats i funcionaris encarregats d'engegar les mesures protectores de l'ordre públic i de la seguretat ciutadana, i agents socials afectats per l'aplicació de tals mesures.
El congrés es dirigeix, doncs, a juristes i criminòlegs en general, acadèmics i investigadors vinculats a les àrees temàtiques tractades, professionals del Dret (magistrats, fiscals, advocats, secretaris judicials, funcionaris d'institucions penitenciàries), cossos i forces de seguretat, analistes i experts en seguretat, periodistes, estudiants de grau, postgrau i doctorat en Dret, Criminologia, Ciències Polítiques i Sociologia.
Comité científico:
A. Alonso Rimo, A. Ashworth, E. Bea, E. Borja Jiménez, J.C. Carbonell Mateu, D. Colomer Bea, K. Fach Gómez, J.A. García Jabaloy, A. Gargani, J.L. González Cussac, A. González Navarro, L. Greco, J. Mira Benavent, E. Orts Berenguer, L. Zedner
Presentació de comunicacions fins al 20 d'octubre.
Vegeu informació detallada sobre temes, terminis i procés d'avaluació en:
http://www.uimp.es/congreso-orden-publico-y-justicia-preventiva.html
Organized by:
Contact: alberto.alonso@uv.es, david.colomer@uv.es
More information: