Opening of the Eleventh Martínez Guerricabeitia Biennal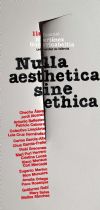 Schedule: From 15 february 2012 to 25 march 2012. Tuesday, wednesday, thursday, friday, saturday and sunday at 10:00 to 20:30.
Place: City Museum (Pl. Arquebisbe, 3)
Description:
The Martínez Guerricabeitia Trust of the UV General Foundation has asked five critics and five art gallery directors to select works from 20 contemporary artists, under the slogan "Nulla aesthetica sine ethica"
The Martínez Guerricabeitia Biennal, as an organisation sensitive with the controversial social issues, wishes to dedicate this eleventh edition to a discourse similar to that of the Martínez Guerricabeitia collection, that is, pieces which pose a socially critical point of view, embedded with social conciousness, performed from the concern of the current conclicts or that express some form of social, political or artistic answer.
Exhibition Opening Hours:
From Tuesday to Saturday, 10:00-14:00 and 16:30-20:30
Sundays, 10:00-15:00
Closed on Mondays.
Organized by:
UV - Martínez Guerricabeitia Trust of the General Foundation of the UV.
Contact: pmg@uv.es
More information: