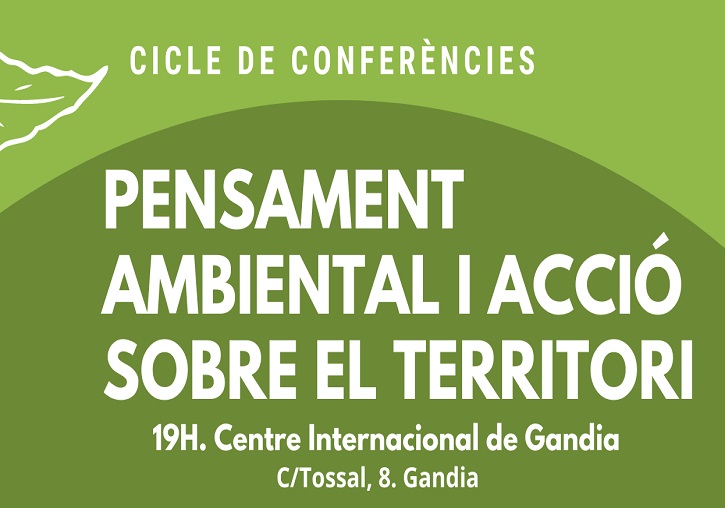 Cicle 'Pensament ambiental i acció sobre el territori'
El Centre Internacional de Gandia de la Universitat de València (CIG-UV) posa en marxa el cicle de conferències "Pensament Ambiental i Acció Sobre el Territori" que tindrà lloc al llarg del curs 2020-2021. Amb aquesta iniciativa es pretén fomentar el pensament crític i la reflexió sobre l'ecologia i les relacions socio-naturals i abordar les principals problemàtiques, conflictes i reptes als quals s'enfronten hui la comarca de la Safor i els territoris veïns. Totes les conferències seran gratuïtes i es podran seguir tant de manera presencial com virtual.
La inscripció s'obrirà uns dies abans de cada conferència.
PROGRAMA:
11 NOVEMBRE 2020: Creiximent sostenible? Que li ho pregunten a Groucho Marx. Vicent Cucarella, Síndic Major de Comptes de la Comunitat Valenciana
13 GENER 2021: Pandèmia del coronavirus i medi rural: nova crisi demogràfica o oportunitat històrica? Luis del Romero, Departament de Geografia, Universitat de València
3 MARÇ 2021: La Marjal Pego-Oliva: història, situació actual i reptes futurs. Víctor Navarro, Acció Ecologista Agró
14 ABRIL 2021: Balanç, reptes i riscos de la modernització de regadius. Carles Sanchis, Departament de Geografia, Universitat de València i Centre Valencià d'Estudis sobre el Reg, Universitat Politècnica de València
5 MAIG 2021: La mar es vida. Pesca y sostenibilidad socio-ambiental de la costa mediterránea. Paloma Herrera, Departament d'Economia i Ciències Socials, Escola Politècnica Superior de Gandia
Període From 11 november 2020 to 5 may 2021. Wednesday at 19:00 to 21:00.
Lloc Centre Internacional de Gandia o online
Organized by
Centre Internacional de Gandia.
Contact uvgandia@uv.es
More information