Fundació Carmen Izquierdo Besante Monzó al millor expedient acadèmic de primer curs 2017/2018
19/12/18
L'estudiant Sara Cebellán Debón rebrà el proper 15 de gener el premi de la Fundació Carmen Izquierdo Besante Monzó al millor expedient acadèmic de primer curs 2017/2018 per l'àrea de Ciències, Enginyeria i Arquitectura.
Obert el termini d'inscripció al MOOC " Matemáticas y Estadística: entiéndelas, úsalas"
12/12/18
El Servei de Formació i Innovació Educativa (SFPIE) de la Universitat de València ofereix a la comunitat universitària i al públic en general aquest curs online en obert, accessible a través de la plataforma internacional MiríadaX per a cursos MOOC. Els participants en el curs tindran l'oportunitat de gaudir, de forma gratuïta, d'accés a tots els continguts del curs i als test d'avaluació.
Ampliació enquesta
29/11/18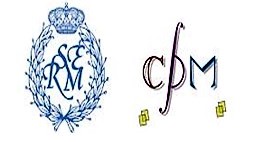 Enquesta eixides professionals
29/10/18
Enquesta sobre les eixides professionals del llicenciats i/o graduats en matemàtiques
Carolina Vallejo Rodríguez
05/10/18
Carolina Vallejo Rodríguez, llicenciada i doctorada en aquesta Facultat, va rebre ahir 4 d'octubre un dels prestigiosos premis d'investigació matemàtica Vicent Caselles RSME-Fundació BBVA 2018. En el seu discurs d'agraïment Carolina, ara en una estada postdoctoral a l'ICMAT, va tenir unes emotives paraules en referència al seu centre de formació, la nostra Facultat, que també va ser el centre de formació de Vicent Caselles. Enhorabona i gràcies per tenir-nos present en aquest moment. En representació de la Facultat va acudir a l'acte de lliurament dels premis la vicedegana Rosa Donat. --
The University of Valencia opens its doors. In its Centres you will discover a wide offer of studies, state of the art technology for teaching, sport and cultural installations and a net of libraries. All you need to access a comprehensive education that guarantees your professional success.
Life on Campus