Leo Lorenz doctor 'honoris causa' a proposta del Departament d'Enginyeria Electrònica i l'ETSE-UV
28/07/16
Lorenz és una referència mundial en el camp de l'electrònica i des de fa anys manté una estreta relació amb la universitat
ETSE-UV Closed for holidays
27/07/16
From 8th to 26th August 2016 the Centre and facilities will be closed, as indicated by the instruction of Management of the University of Valencia 3/2014 Reading Room 'José Espí López' will be closed in August.
Researchers from the Würth Elektronik Chair are doing an internship in a German company
26/07/16
Researchers from Würth Elektronik Chair created by Würth Elektronik eiSo and Universitat de València are working as interns at a company in Germany this summer. They are carrying it out characterization and strength, resistance, impedance and resistive response testing to various compressions of different shielding products of Würth Elektronik.
A course of Educational Robotics for non-academic teachers
25/07/16
Recently, a course titled Educational Robotics as a Teaching Tool has taken place at one of the teaching laboratories of ETSE-UV. It is a part of the training programme offered by the Lifelong Learning Service, directed towards non-academic teachers.
A day of Educational Robotics workshops at la Nau Jove
25/07/16
La Nau Jove of Universitat de València in collaboration with ETSE-UV has organized three days of Workshops of Recreational Robotics in which adolescents between 13 and 16 years of age can program and experiment with micro-robots. These workshops form a part of a programme full of other activities organized by la Nau Jove, all of which are consistent with the philosophy of passing on knowledge in a fun and experimental way.
Oferta de cursos de nivell (Física, Matemàtiques, Química) per a alumnes de grau de l'ETSE-UV
18/07/16
Oferta de curs de nivell (Física, Matemàtiques, Química) per a alumnes que cursen les titulacions de grau de l'ETSE-UV.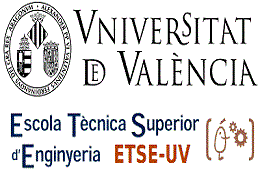 Adjudicació de places en l'ETSE-UV curs 2016-2017
15/07/16
L'ETSE-UV adjudica totes les seues places oferides en la preinscripció de graus per al curs 2016-2017.
Institutional Video of the The School of Engineering.
Breve recorrido por las instalaciones de la Escola Tècnica Superior d'Enginyeria de la Universitat de València, en el campus de Burjassot-Paterna.