The I2SysBio is a joint research institute involving Universitat de València (UV) and Agencia Estatal del Consejo Superior de Investigaciones Científicas (CSIC), open to strategic alliances with biotech companies. The institute is located in a building that was completed at the end of 2015 in the Scientific Park (Parc Científic, Campus Burjassot-Paterna) of the UV. The foundational agreement of I2SysBio was signed by CSIC and UV in March 2016. The first research groups moved to the new building in March 2017, and the centre was officially inaugurated in February 2018.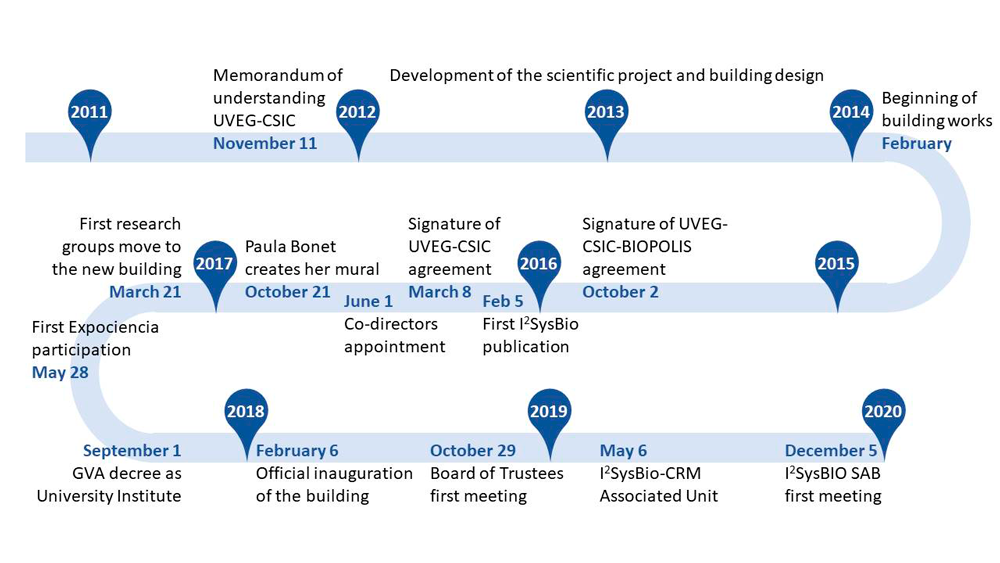 The I²SysBio Scientific Programs focus on research into structure, function, dynamics, evolution, and manipulation of complex biological systems. The mission of I²SysBio can be defined within five areas of action:
Create a multi- and inter-disciplinary work environment where scientists from different backgrounds work together dynamically and continuously to solve common problems.
Develop high-quality research and achieve excellence in the field of integrative systems biology.
Produce high value-added knowledge with potential transfer to industry.
Train researchers in a multidisciplinary field with broad future projection.
Boost the development of integrative systems biology in Spain.
The I²SysBio's aim is to become an international reference center in the development of integrative systems biology and, in particular, from an evolutionary perspective. At the same time, the I²SysBio seeks to provide solutions to problems that may arise in the pharmaceutical, biotechnological, biomedical and agribusiness sectors that are open to a systems approach (e.g., through metabolic engineering and synthetic biology).
The I²SysBio is backed by a Scientific Committee composed of recognized researchers in the area of integrative biology of systems.