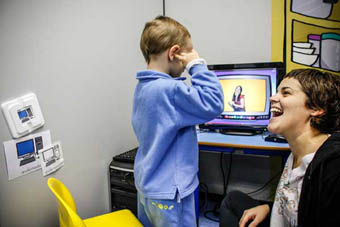 The University Centre of Diagnosis and Primary Intervention (CUDAP), registered in the University of Valencia General Foundation, organizes, on 27 and 28 March, the IV Interdisciplinary Conferences on Primary Attention, with the collaboration of the Valencian Association of Primary Attention (AVAP). In this edition, to be held at the Faculty of Psychology (av. Blasco Ibáñez, 1), neurodevelopmental disorders will be the subject of reflection.
The conferences begin this Thursday, March 27, with six workshops which will be held from 16:00. Different groups will work the introduction of S.C.A.A (Augmentative or alternative communication system) in children with motor impairment; neurodevelopmental disorders in the DSM-V (Diagnostic and Statistical Manual of Mental Disorders); the psycho-educational profile; Peabody Development Motor Scale; the model of psycho-educational intervention in Autism Spectrum Disorders, with the presentation of cases; Disorder and attention Deficit Hyperactivity Disorder (TDAH) and primary attention.
The academic part of the conferences, March 28, will be opened at 9:30. The event will be presented by the Office of the Vice-Principal for Teaching Staff and Academic Planning, Maria Vicenta Mestre, who will accompany on the table of the regional secretary for Personal Autonomy and Dependence of the Valencian government, Manuel Escolano; the president of AVAP Juan Carlos Belda; and the director of the conferences, full university professor Francisco Alcantud.
'The importance of primary attention in children with neurodevelopmental disorders' is the theme of the inaugural conference (10 hours) by Javier Tamarit, Head of the Quality Department of the Spanish Confederation of Organisations for Persons with Intellectual Disability and Development (FEAPS).
Then (12:00), a round table will debate on neurodevelopmental disorders in the DSM-V. It will intervene in the round table Tomás Miguel, Neuropediatric at the Hospital La Fe in Valencia, and Rosa Muñoz, rehabilitation physician at the Hospital of Gandia, moderated by Francisco Alcantud.
Already in the afternoon there will be celebrated the communications (16:00) and the biannual meeting of AVAP (18:30).
The Organizing Committee of the IV Interdisciplinary Conferences on Primary Attention is composed by Dario Rico, CUDAP coordinator; Juan Carlos Belda; Jordi Sirvent; Yolanda Montor; Loles Ferri; Adela Agote; and Carmen Taberner, coordinated by the Director of CUDAP, Francisco Alcantud.
Last update: 25 de march de 2014 11:44.
News release