Large volumes of a large variety of chemical and sanitary waste are produced at the university. This implies a hazard and that is why laboratory waste must be properly managed.
It should be noted that each user is responsible for the waste which they produce, and that the Health and Safety and the Environment Service centralises the management, merely acting as an intermediary between users and external waste managers.
Laboratory technicians as well as professors, researchers, students, and in general all those involved in the production of hazardous and sanitary waste must participate and collaborate for a correct management of laboratory waste.
This service includes the following 19 groups of laboratory waste. Please do not mix different types of waste even if they belong to the same laboratory waste group.
| | | |
| --- | --- | --- |
| GROUP | WASTE | EXAMPLES |
| group 1 | Obsolete laboratory reagents | Obsolete laboratory reagents |
| group 2 | Non-halogenated solvents | Alcohols, toluene, xylene, dimethylformamide, acetone, ethyl acetate, cyclohexanone, ether, formaldehyde solutions, etc. |
| group 3 | Halogenated solvents | Chloroform , chlorobenzene, any other solvents containing fluorine, chlorine, bromine or iodine. |
| group 4 | Inorganic acids and acid solutions with metals | Acidic solutions with or without metals are included, except chromium (VI) and heavy metals solutions. |
| group 5 | Organic compounds | Organic acids such as acetic acid, oxalic acid; peroxides including hydrogen peroxide, etc. |
| group 6 | Alkalis and inorganic salts | Both alkali and inorganic salts, except the most hazardous (unstable compounds, highly oxidizing, etc.) |
| group 7 | Oil, grease, hydrocarbon and fuel | Oil, grease, hydrocarbon and fuel |
| group 8 | Pesticides | Herbicides , insecticides , fungicides, etc. |
| group 9 | Phenols and phenolic compounds | Phenols and phenolic compounds |
| group 10 | Mercury, chromium (Vi) and other heavy metals salts and compounds | Compounds containing mercury, Cr (VI) and any other heavy metals |
| group 11 | Cyano compounds | Cyano compounds |
| group 12 | Contaminated laboratory equipment | Contaminated materials such as gloves, pipette tips, etc. |
| group 13 | Highly hazardous | Nanotechnology, explosives, highly toxic compounds, etc. with their safety data sheet |
| grupo 14 | Waste from COD determination | Waste from COD determination |
| group 15* | Cytotoxic waste | Ethidium bromide gels, diaminobenzidine, acrylamide |
| group 16* | Biosanitary and biological waste | Petri dish cultures, contaminated tools, liquid extracts, anatomical waste, needles and sharps materials |
| group 17 | Photographic liquids | Photographic liquids |
| group 18 | Batteries | Batteries |
| group 19 | Empty packages and Pyrex glass | Empty plastic, Pyrex glass and metal packages previously containing reagents, laboratory glassware, vials |
*Waste groups 15 and 16, called sanitary waste, are managed differently from the rest of groups.
Sanitary waste includes the following groups:
GROUP 15: Cytotoxic waste: intercalating agents such as ethidium bromide, diaminobenzidine (DAB) and other substances wich break the DNA.
GROUP 16: biological and biomedical waste: microbiological and animal remains, needles and scalpels contaminated by possible infectious substances.
This waste does not follow the same schedule as the other groups, but are collected weekly, as indicated in the related section.
It will always be considered as group 19 laboratory waste, because it is generally borosilicated glass (Pyrex glass), which cannot be recycled with the normal glass, and/or it may contain traces of chemicals, which makes it more dangerous.
It is important to note that empty laboratory reagents packages must be deposited in containers WITHOUT HAVING BEEN BROKEN previously.
As for vials, which are so small, a large proportion of reagents may remain inside them, so they should be treated separately from the rest of glass and labelled as group 19 laboratory waste with the following description: "Contaminated glass vials."
Following the instructions in this section makes easier and faster the management of hazardous waste. Waste which does not meet these rules cannot be collected.
Firstly, it is important that producers understand what substances can be mixed. Our advice is to avoid all unnecessary mixtures. If not possible, before mixing you should check any possible incompatibilities among different chemicals in their safety data sheets.
Safety data sheets must be provided for free by the companies who sell dangerous chemicals. You can also check on www.fichasdeseguridad.com.
Waste packaging must meet several requirements:
hermetic closing to prevent any loss of contents,
with no cracks or deformations,
external surface of the container should be dry and clean,
material: the service provides some plastic containers suitable for most types of waste.
For transporting and handling, waste manager companies cannot accept waste in glass bottles for its fragility and consequent risk. Neither is solid waste in plastic bags allowed.
If the waste container is not in acceptable condition, the producer must transfer the contents into a suitable container wich we can provide.
REMEMBER TO FIRMLY CLOSE THE LIDS FOR COLLECTION
Producers must request the packaging needed for the waste which they expect to generate. We usually supply the same number and type of packages which are taken away, but if you need more, you can include this information along with the collection request.
For ergonomic reasons, no over 10 L containers for liquids will be provided in order to avoid problems derived from excessive weight carrying.
To make classification of waste easier and faster, adhesive colour labels have been made, each of them for one different group.
All fields of the label must be filled out.
The most important thing is that the label should list the components of the waste, especially those which make it hazardous. Avoid generic names (solvents, acids, etc.)
As for sanitary waste the labelling is:
Group 15: label 'cytotoxic ' + barcode label R.CITO.GIV
Group 16: label 'risk waste' + barcode label R.SAN.GIII
Users must request the appropriate labels for the waste produced. These labels will be provided at the time of collection and if needed they can be sent by internal mail as well. As a last resort they can also be downloaded from the download files section of this website and printed.
We advise users to attach the labels to the containers before filling them, so that all the members of the laboratory staff could identify at a glance the place where each type of waste should be discarded.
To request collection it should be forwarded to the Health and Safety and the Environment Service the collection request table, as detailed in the instructions for users, except for the users of the waste warehouse in Burjassot, which will follow the instructions for the waste warehouse users.
Once packaged and labelled, waste should be stored in a place safe for people and the environment until it is collected.
If the laboratory is in the oldest area of the Burjassot campus, waste should be brought to the waste warehouse. A technician there will weigh, place and store the containers.

10L and 5L hermetic closing containers
Once full, containers with cytotoxic liquids must be closed and deposited in 30L blue containers for solids.
30L cytotoxic container for solids
Solid chemicals (for all waste groups except 15 and 16)

60L and 30L red Containers

Cytotoxic waste (group 15)


60L and 30L Blue containers

Sanitary and biological waste (group 16)
60L green container and 30L black container

Needles and sharp objects (both 15 and 16 groups)


5L and 10L Yellow containers
These rules apply to all the centres of the University, except the users of the waste warehouse at the Burjassot campus.
The procedure to follow is schematically detailed below:
1. Download the sanitary or chemical request table according to the residues involved, and fill out every field (and optionally weight). Pay special attention to the description of the waste and packaging. Use one row per container.
2. Send the collection request table to residus@uv.es before 1:00 pm of the preceding day, including the amount of labels and empty containers which you will require.
3. Waste collection will take place as previously scheduled in the annual calendar.In case of need (missing data, collection date change), the Health and Safety and the Environment Service (SPMA) will notify the changes replying to the email.
4.Carry the waste to the place of collection on the appointed day.
5. Weigh each container and give them to the SPMA staff.
Pickup and container supply sites
- Pharmacy: residues collection at the parking lot 56. Containers are stored in the room 17A within the parking.
- Instituts de Paterna: collection of residues and container storage in the loading area.
- ETSE: collection of residues and container supply at the cage by the parking barriers entrance.
- I2SysBio: collection of residues and container supply in the parking, by the cage between the access door to the phytotron and the maintenance door of the external company.
Users at the Burjassot campus must follow the instructions below.
A. Delivery in the warehouse on Wednesdays from 09:00 am to 11:00 am.
One person per laboratory group will bring the waste to the warehouse, except if the weight or volume of waste is high.

The users and the SPMA technician will check that waste has been properly packaged and labelled.
Containers are weighed and weight and all the important information included in the label (contents, laboratory of origin and contact person) are registered.
The SPMA technician will provide the packaging and labels needed.
B. Collection using an electric car to carry large quantities (over 100 kg) from 11:30 am to 01:00 pm.
Laboratories requiring this door-to-door service should dial the extension 93303.
The SPMA technician driving the electric car will arrive at the building.
The laboratory staff will help the SPMA technician to load the containers into the car.
Once in the warehouse it will be followed the procedure in the section above (A) from the second item on.
If you do not have a suitable cart to carry the waste containers to the warehouse, you can borrow this one from the warehouse: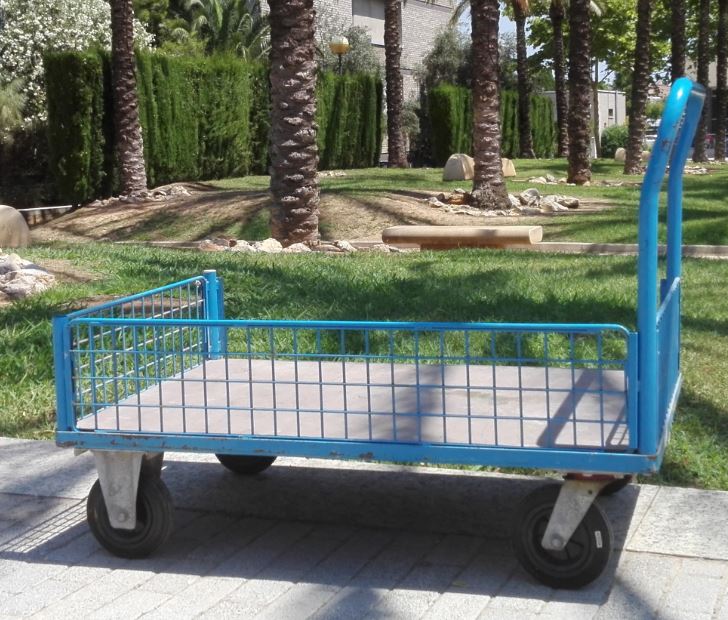 CHEMICAL waste collection table
SANITARY waste collection table​
Collection calendar
Compatibilities for mixtures table
Poster for labs about waste management available in paper