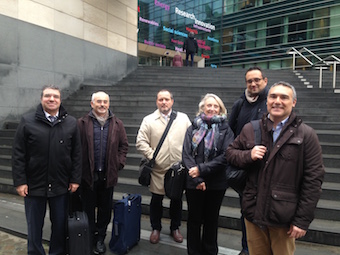 The European Commission has selected a project of the Universitat de València, coordinated by the professor Aurora Seco, for the wastewater reuse. The implementation of this innovation project has been signed this Friday 7 April in Brussels with the attendance of Aurora Seco and the Vice-Principal for Research and Science Policy, Pilar Campins. The action is inside the framework of the Innovation Deals, a European initiative to improve the cooperation between innovative entities and institutions.
Leaded by the full university professor of Chemical Engineering of the Universitat de València, this is an innovative project about the anaerobic membrane technology, which allows to obtain energy in the shape of biogas, and its impact in the wastewater reuse. It is a high quality water rich in nutrients that can be used for the irrigation of the land. In this project participate several groups of national, regional and local interest of Spain, France, Malta and Portugal. Aurora Seco explains that "consortium is composed of national and regional authorities, universities and research centres, enterprising persons, SMEs and final users. In other words, partners of the south of Europe that have been regarded as primary members due to their significant problem of water shortage".
'Sustainable waste water treatment combining anaerobic membrane technology and water reuse' is the innovation agreement that is about a paradigm change of the conventional treatment of urban wastewater in a water resources facility. The technology would facilitate the extraction of energy and nutrients and can stress in the reuse of treated water for irrigation. In this sense, professor Seco says that "this reuse of water will increase the availability of fresh water resources for other uses such as safe water".
Within the area of circular economics of the innovation agreements of the European Commission, it has been selected the Innovation Deal, a proposal of the Universitat de València that was designed by CALAGUA, Joint Research Unit of the Universitat de València and the Universitat Politècnica de València that coordinates Aurora Seco.
Among the 32 proposals of key interest of 'Innovation Deals' in circular economics received from 14 different member states of the EU, the Universitat de València is the coordinator of one of the two unique selected.
The Innovation Deals try, in a new way and through the voluntary cooperation among several groups of interest, to address the obstacles that the European regulation suggests to the innovation in a specific field.
Last update: 8 de april de 2017 08:00.
News release