Daniel Ramón, the founder of the biotechnological company Biopolis, has been awarded by the pharmaceutical industry
Parc Científic

May 17th, 2019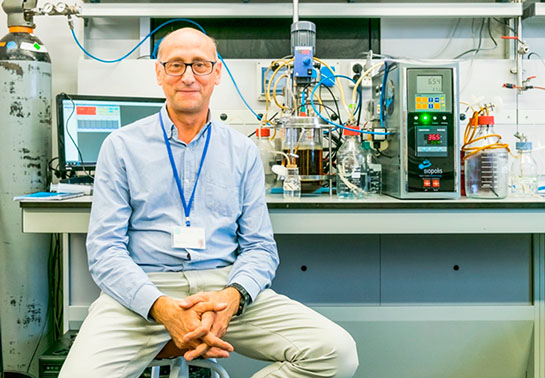 Daniel Ramón. An image of Carlos Spottorno for the magazine 'El País Semanal'
Daniel Ramón Vidal, vice chairperson of R+D in Nutrition and Health of ADM Biopolis, a company located in the Scientific Park of the Universitat de València, has been awarded with the 2019 NutraChampion Award given by NutraIngredients, the main communication platform for nutritrion worldwide. The jury has highlighted the contributions of the Valencian expert in biotechnology to the scientific development of food and biotechnology.
The NutraIngredients Award praises pioneering innovation and research regarding healthy food, supplements and nutrition. NutraChampion, the award that Daniel Ramón has received, is an award in which the nutracetic industry appreciates one of the more influential experts of the sector in each edition in a contest promoted by 270 industrial leaders worldwide.
At the award ceremony, celebrated in Geneva on the 8th of May, the jury has underlined the role of Daniel Ramón as he embodies the scientific rigour, technical experience and commercial intelligence. 'His professional career shows that research is the most powerful engine in order to create solid business, opportunities and growing', points out the minutes.
Daniel Ramón has widened the appreciation to the team of Biopolis working in València: 'What allows us to move forward to the future is the whole team.' He also showed his satisfaction in receiving this award from the industrial sector: 'Over my career,I have received some academic awards, but this is the first time that this industry gives me a qualification, which I consider extremely pleasant.'
Daniel Ramón is currently the vice chairperson of R+D in Nutrition and Health of ADM Biopolis, a company which was born as a spin-off of CSIC and today is part of the second major Agri-food company, ADM. He has been researching lecturer of the Upper Counsil of Scientific Research at the 'instituto de Agroquímica y Tecnología de Alimentos' (IATA) and professor of Food Technology of the Universitat de València.
From Biopolis, Daniel Ramón has developed successful probiotics, apart from some other biological products licensed or co-developed with different companies.
The ADM brand keeps an agreement of scientific collaboration with the Institute for Integrative Systems Biology (I2SysBio), a mixed centre of the Universitat de València and CSIC, which is also placed at the Science Park. This agreement is carried out to develop common concern strategical research projects in the area of synthetic biology and systems biology.