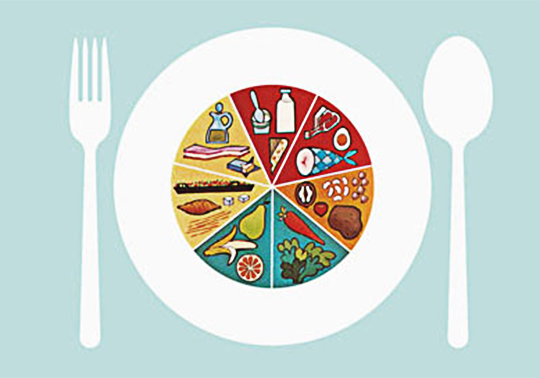 The Palau de Cerveró of the Universitat de València dedicates an exhibition to the first campaigns of the Education Programme on Feeding and Nutrition (1961-1996) carried by the Spanish Government with the collaboration of international agencies. The project opens today Thursday at 19:30 and it can be visited until the 27 October.
The exhibition 'How we learnt to eat' consists of some illustrations, objects, messages and leaflets of that time which accompanied the training of the food transition. There are also two original documentaries 'La rueda de la alimentación', directed by Antonio Mercero and 'Cómo alimentarse mejor' by Mario Barabino.
The two main places where these programmes acted were the household and the school. They also encouraged the local production and consumption of food. The exhibition underlines the importance of the school canteen as an essential place when it comes to the creation of habits linked to the varied and balanced diets. It was supported by the educational concept of the food pyramid in order to know their composition and the contribution of the immediate elements, vitamins and minerals. On the other hand, the exhibition also highlights the double strategy carried out from the recovery of local and traditional recipes and the presence of the milk. This became a central nourishment within the programme to the extent of linking the degree of development and progress of the communities to the milk consumption.
The Education Programme on Feeding and Nutrition, known as EDALNU, appeared in the framework of the collaboration agreements of the Spanish Governments with international agencies such as the Food and Agriculture Organization of the United Nations (FAO) and the United Nations Children's Fund (UNICEF). During the process it was created a net of trainers. 46,752 people were part of that net and they were distributed in an unequal way through Spain. The 94% of them were women. This gender discourse, not exempt from contradictions, sets out conflicts between tradition and modernity.
The exhibition which is coordinated by the professors of the Universidad de Alicante, Antonio García Belmar and Josep Bernabeu, aims to show the close links which relate the nutrition with the society and the culture of a country. The cinema cycle 'Alimentación y cultura' (Food and culture) will also be a part of the project. It will include the films 'Eat Drink Man Womant', 'Babette's Feast', 'A Touch of Spice' and 'An' and a conference cycle in which Consuelo López Nomdedeu, nutritionist and member of the programme EDALNU, will participate, among others.