UVjob organises a webinar to boost employability for people with disabilities
UV General Foundation

March 5th, 2021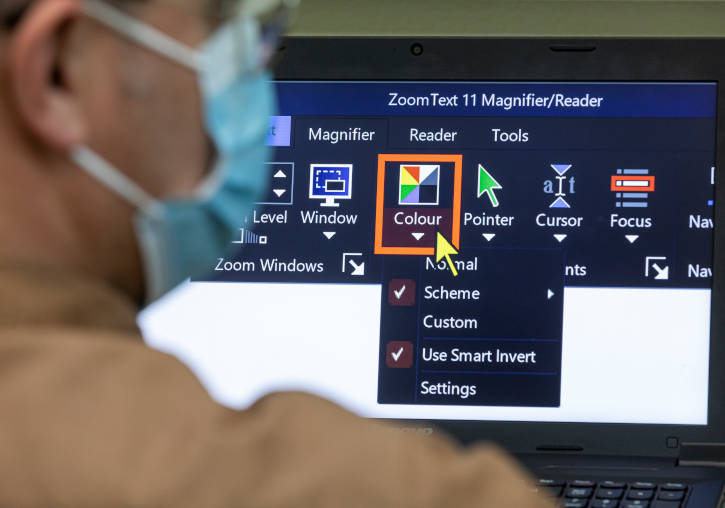 User connecting to an accessible UV computer. Photo: Miguel Lorenzo
The employment service of the University of Valencia, UVjob, has collaborated with UVdisability to organise a new webinar with the aim of providing information about the disability area managed by the service, through which it works to boost employability. The free session will be held next Thursday, March 4, at 12:30.
UVjob has an employment and career guidance service that specialises in disability, UVjob-disAbility, aimed at students and graduates with disability certificates of ≥33%. They can participate free of charge in different university programmes organised and managed by the service to promote their employability and entry into the job market.
One of these programmes is Capacitas, which was launched with the collaboration of Banco Santander in 2020 and achieved nine job placements. The second call is planned to start in 2021. More information will be available soon.
The webinar, which will include a sign language interpreter, will be attended by the people in charge of UVjob: professor Marisa Quintanilla, as director, and María José Torres, the head of coordination. They will be accompanied by Raquel Muñoz, the guidance and employability specilist of the disability area.
The online session will be held free of charge through Google Meet. Prior registration via the following application is required to attend: https://events.fundacio.es/e/597/webinar-per-a-impulsar-la-insercio-professional-de-persones-amb-discapacitat
Guidance, assistance and support
The key objective of UVjob-disAbility is to guide, assist and support people who are actively searching career opportunities to help them enter the labout market easily.
Moreover, training activities and labour intermediation are carried out through individualised employability itineraries, which connect job seekers with companies, organisations and institutions.
Lastly, after finding a job placement, the selected person is assisted in the process of starting their new position.
Throughout 2020, UVjob-disAbility carried out 248 guidance interviews and assisted 126 users, 36 of which (over 25%) found a job.
Those interested in applying for employment guidance should contact Raquel Muñoz, the specialist in charge of the service, through the phone number 961625901, or send an email to uvocupacio@uv.es
More information: