Anna Boluda
Un home arruïnat, un enverinament múltiple, morts entre brams de dolor i un gendre acusador. Podria ser el guió de l'última sèrie de televisió, però és un cas real succeït en la València medieval. Així ho ha explicat Carmel Ferragud, professor titular del Departament d'Història de la Ciència i Documentació i investigador també a l'Institut Interuniversitari López Piñero, dins del volum col·lectiu 'Medieval and Early Modern Murder. Legal, Literary and Historical Contexts', editat per Larissa Tracy, professora del Trinity College de Dublín. "Em va arribar la proposta per a col·laborar en aquest llibre, que aborda l'assassinat des de diverses vessants en l'Europa medieval. Jo estic especialitzat en història de la medicina, no en assassinats, però a través de la meua recerca havia estudiat diversos processos de justícia criminal de València en què els metges participaven com a perits en els tribunals, i vaig pensar que algun material del que tenia podia ser interessant", explica l'autor.
El cas en qüestió és el procés criminal contra Sanxo Calbó, conservat íntegrament a l'Arxiu del Regne de València i farcit de detalls i declaracions en primera persona de tots els participants.
Un enverinament múltiple a la casa familiar
L'any 1442, en ple Segle d'Or valencià, Pere Roquer va denunciar el seu sogre, Sanxo Calbó, per haver assassinat la seua dona, filla de Sanxo, i altres persones que vivien en la gran casa familiar. "Van morir dues dones: la filla de Sanxo i la sogra d'aquesta, la mare de Pere. El mateix Pere va restar malmés, fins i tot va patir una paràlisi temporal, i altres persones de la casa també van resultar afectades. És un fet terrible, un crim d'aquells que marquen una època, que va arribar a canviar la jurisdicció local de gestió dels verins", indica Ferragud.
Sanxo Calbó va utilitzar realgar, un sulfur d'arsènic natural relativament fàcil d'aconseguir perquè s'usava en alguns medicaments per a eliminar rosegadors i com a pigment, i que en el seu pla criminal va anar acumulant. Es tracta d'un tòxic molt poderós i "com a verí és ideal, perquè és incolor, no té sabor, es pot fer desaparéixer molt bé i fer ingerir fàcilment. Això és el que ocorregué a casa de Sanxo Calbó", diu l'historiador. "El realgar, el verí, estava present a tot arreu: en l'aigua del pou, en el vi, el menjar, els confits. Com a conseqüència, va ser un enverinament múltiple".
Sanxo Calbó, un home despietat
El procés judicial va comptar amb una quarantena de testimonis per a esbrinar la història de Sanxo Calbó i del que havia pogut passar. "Les conclusions són bastant confuses, perquè les declaracions van avant i arrere en la vida d'aquest senyor, però sembla que el mòbil podria ser econòmic", explica Ferragud.
Sabem que Sanxo Calbó havia sigut un home important, un artesà del tèxtil ben situat. Però després de vint anys dedicat al seu negoci, va començar a tindre problemes, segurament de diners, que el van dur a cometre fraus, a estafar els clients. La situació es va agreujar tant que el gremi el va expulsar i li va prohibir exercir la professió. A partir d'aquell moment els seus moviments van ser cada vegada més truculents, fins al punt d'intentar que la filla canviara el testament per a deixar-li-ho tot a ell. "Aquest individu va anar degenerant fins arribar al crim més horrorós, matar la pròpia filla per diners", diu l'historiador.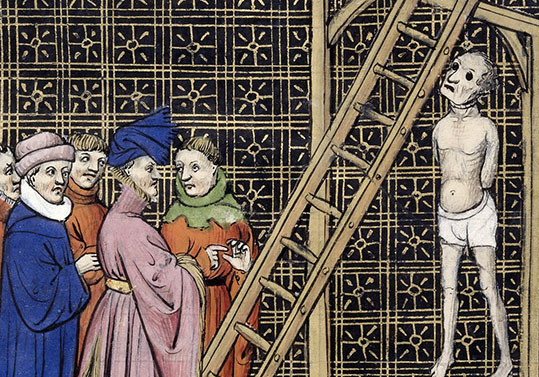 Símptomes, antídots i banya d'unicorn
A mesura que els habitants de la casa van notar els efectes del verí, van recórrer a diversos remeis, des de metges professionals a beuratges que feien vomitar o un endeví moro que deia curar amb el seu do i unes oracions. "La part interessant d'aquest cas per a la història de la medicina és que apareix el que anomenem pluralisme assistencial, els diversos mecanismes als quals recorrien per a intentar curar-se", afegeix l'investigador.
Un dels testimonis és el rector de Xirivella, amic de la família, que va anar a veure els malalts quan estaven més greus. Va trobar que els havien enverinat i els va donar com a antídot una aigua que havia tocat una banya d'unicorn. "No era infreqüent en aquella època parlar de banya d'unicorn com a antídot per als verins, els reis de la Corona d'Aragó en solien tindre. Normalment, eren objectes que circulaven entre les elits, però en aquest exemple veiem que fins i tot un simple rector en podia disposar. Potser era ullal de narval, un cetaci singular que té una gran dent que sembla una banya, o fins i tot banya de rinoceront, però ens és impossible saber què era en realitat", diu Carmel Ferragud.
Tortura, confessió i un castic exemplar
Els veïns van testificar que escoltaven brams de dolor i que els malalts s'arrossegaven per terra de desesperació. L'enverinament tenia uns efectes demolidors. Davant de tots aquests indicis i les contradiccions de l'acusat, el tribunal va optar per la tortura per a fer-lo confessar, una pràctica freqüent en aquell moment i recollida per la legislació foral. Sanxo Calbó ho va explicar tot: els crims que havia perpetrat, en quines apotecaries havia adquirit el verí en petites dosis i tots els detalls. Va acabar condemnat.
"Els crims amb verins estaven fortament penats. A més, hi havia un factor de proximitat: havia matat la filla. I en casos tan punyents la gent volia veure un castic exemplar i, si això era possible, de manera pública. La pena va ser soterrar-lo viu, amb el cadàver de la filla damunt. Els furs diuen que hauria de morir així, però sembla que finalment aquesta va ser una pena simbòlica. Després el van traure i finalment va morir penjat a la forca", conclou l'historiador. "Si haguera sigut dona, per cert, segons els furs, la pena hauria estat encara més dura: les dones enverinadores morien cremades a la foguera".