The University of Valencia participates in an innovative project for promoting innovations based on sustainability at the university campuses, which will be developed during one year and that it has a global budget of 200,000 euros funded by the Knowledge and Innovation Community (KIC) dedicated to the Climate Change (Climate-KIC), created by the European Institute of Innovation and Technology, which is part of the University of Valencia.
'Amèrica Llatina entre el Neoliberalisme i el Socialisme' i 'Del Cinema Social a la Societat Filmada' són els dos nous cursos inaugurats a la XXXI Universitat d'Estiu de Gandia. Alberto Montero, professor d'Economia Aplicada de la Universitat de Màlaga, i Francesc Hernández Dobón, de l'Institut de Creativitat i Innovacions Educatives de la Universitat de València, han oferit sengles conferències.
The Office of the Vice-Principal for Educational Training and Quality in the University of Valencia has published the Resolution (14, May 2014) by which aids for the development of educational innovation are called in the University of Valencia for the 2014/2015 school year. The period remains opened for the institutions until next 30 September.
UV Events
Open the registration for workshops
The application period 2014-2015 is open.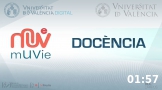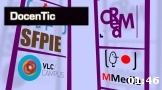 Autor: López, Isabel; Ivars, Antonia;
The main areas of action are: Training, specialisation and re-training of university students and professionals. Work placements in institutions and companies of the Valencian Community and other EU countries. Advice for job search or entrepreneurship. Dissemination of entrepreneurial culture. Support to innovation and transfer... [Read more]
Autor: Medina, Pascual; Entrevista al coordinador del Grup d'Innovació en Fisiologia Vascular (INDOFIS),Pascual Medina.