The UV and the Universitat Politecnica de Valencia host the programme "Campus Inclusivo-Campus sin Límites 2014" (Inclusive Campus-Without Limits Cmpus 2014), from 21 to 29 July, an activity of VLC/CAMPUS, Valencia International Campus of Excellence. This year's programme includes, for the first time, the participation of both disabled and non-disabled students with the purpose of favouring real social integration in an inclusive environment.
El rector de la Universitat de València, Esteban Morcillo, i Luis Santamaría, conseller de Governació i Justícia, han signat aquest dimarts la renovació del conveni de col·laboració per a la creació de la Càtedra de Dret Foral Valencià. A l'acte han assistit Guillermo Palao, vicerector d'Internacionalització i Cooperació; Javier Palao, director de la Càtedra de Dret Foral Valencià; i María Elena Olmos, degana de la Facultat de Dret.
The Office of the Vice-Principal for Educational Training and Quality in the University of Valencia has published the Resolution (14, May 2014) by which aids for the development of educational innovation are called in the University of Valencia for the 2014/2015 school year. The period remains opened for the institutions until next 30 September.
UV Events
Official Master 2014-2015
The application period 2014-2015 is open.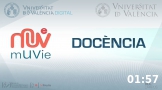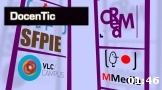 Autor: López, Isabel; Ivars, Antonia;
The main areas of action are: Training, specialisation and re-training of university students and professionals. Work placements in institutions and companies of the Valencian Community and other EU countries. Advice for job search or entrepreneurship. Dissemination of entrepreneurial culture. Support to innovation and transfer... [Read more]
Autor: Medina, Pascual; Entrevista al coordinador del Grup d'Innovació en Fisiologia Vascular (INDOFIS),Pascual Medina.